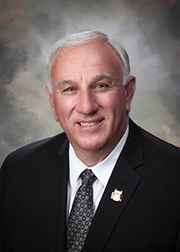 Committees: Personnel Committee (Committee of the Whole); Cranbrook & District Chamber of Commerce; Ktunaxa Kinbasket Treaty Advisory Committee (non-voting).
Career Achievements: Entire working career centred on public service in private business and law enforcement. 25 years with the RCMP, at nine detachments and units throughout Western Canada. Six years with Canada Customs & Excise in BC. Owner and operator of a successful residential yard care company for 5 years after retirement from the RCMP.
Personal Information: Raised and educated in Cranbrook before my RCMP career. Father of two adult children, their spouses and three grandchildren. Sports interests centre on golf and hockey, along with volunteering in a variety of committees within my church community. Very proud to call Cranbrook home.