Cranbrook, BC (April 25, 2023) – Two key projects in the City's 2023 capital works program – 4th Street North Phase 2 reconstruction and Shadow Mountain Sanitary Sewer Servicing get underway over the next couple of weeks.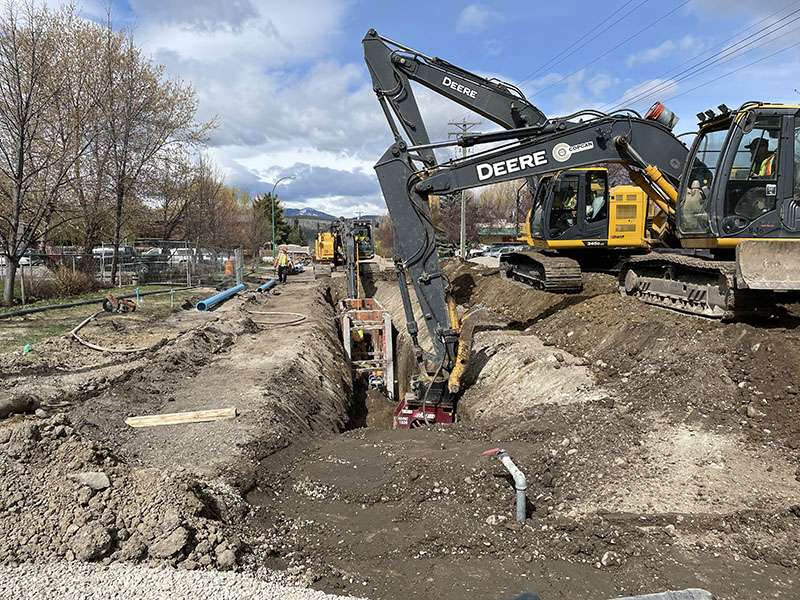 The 4th Street North Phase 2 reconstruction continues the work started on 4th Street North in 2022 and will focus from 17th Avenue North to Kootenay Street. This construction phase will replace all the aging infrastructure like water mains and services, sanitary sewer mains and services, and new storm sewer infrastructure. New curb, gutter, sidewalk, streetlights, and pavement will also be installed. Mackay Contracting will be completing this project and will be mobilizing its equipment this week. We expect this project to wrap up around the end of August 2023.
The Shadow Mountain Sanitary Servicing project is the other significant project in 2023. Copan Civil LP has been awarded the contract and intends to mobilize on May 1, 2023. This major infrastructure project will connect the Shadow Mountain community to the City's wastewater collection system, with nearly 3 km of sanitary sewer main and three sewage lift stations and control structures. This project is expected to be completed in late October or early November 2023.
The City of Cranbrook gratefully acknowledges the financial contributions of the Canada Community Building Fund (former Gas Tax Fund) toward these important infrastructure projects.
As construction begins on these two significant projects, those travelling near or around these construction sites must follow all signage and any direction provided by contract staff and traffic control personnel. Residents who live in and around these sites, where construction will impact access to your property, our contractors will reach out to you directly to notify you in advance of any disruptions and how long these disruptions may last. Garbage and recycling pick-up will remain on its regular schedule in these areas.
We will provide regular updates on these projects and others as they come online over the summer months.