The City of Cranbrook has adopted the BC Energy Step Code – a provincial regulation that local governments in British Columbia may use if they wish to incentivize or require a level of efficiency in new construction above the requirements of the BC Building Code. Step Code is now part of the City's Building Bylaw 4029, 2021, as adopted by Council on February 8, 2021.
Timeline
Step 1 for all new Part 9 residential buildings – January 1, 2021
Step 2 for all new Part 9 residential buildings – August 1, 2021
Beginning August 1, 2021, all new Part 9 construction in the City of Cranbrook will be required to meet Step 2, which is approximately 10% more energy efficient than that which was required in the 2018 BC Building Code. The good news is that the majority of builders in the region are already achieving this standard, or beyond. Combining an energy model with attention to air sealing is key to achieving Step 2 and above, and therefore, meeting occupancy permit requirements after August 1, 2021.

What is the BC Energy Step Code?

The performance approach establishes a desired outcome, and leaves it to the design and building team to decide how to achieve it.

To comply with the BC Energy Step Code, builders must do an energy model at the design phase and conduct on-site testing to demonstrate that both their design and the constructed building meet the requirements of the standard. They may use any materials or construction methods to do so.
The Performance Pathway of the BC Energy Step Code changes the building process in three main ways. New builds will now have to:
Conduct energy modeling at the design phase
Test air tightness at completion
Quantify mechanical efficiency and heating needs
As shown below, the regulation sets performance targets for new construction and groups them into "steps" that apply across various building types and regions of the province. The Lower Steps are relatively straightforward to meet; the Upper Steps are more ambitious.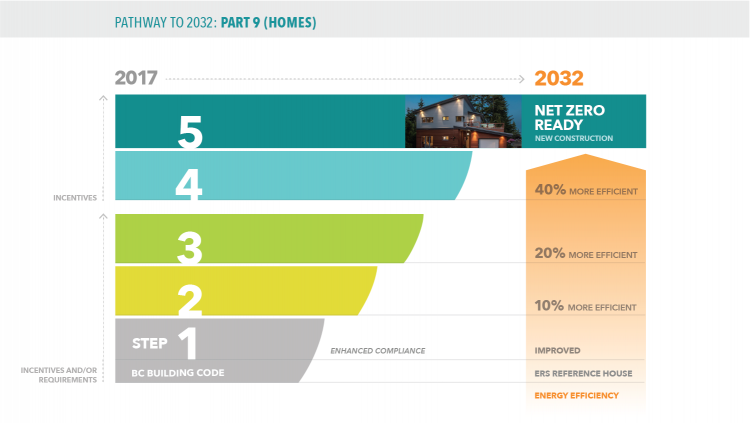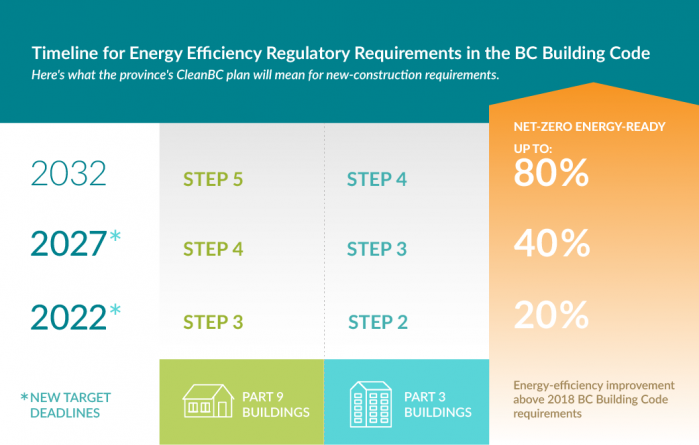 For governments, the BC Energy Step Code offers assurance that new buildings are performing as billed. Meanwhile, on the other side of the counter, builders have a more flexible option to comply with the energy-efficiency provisions of the provincial legislation. The new standard empowers builders to pursue innovative, creative, cost-effective solutions—and allows them to incorporate leading-edge technologies as they come available.

East Kootenay Case Studies
Find additional East Kootenay case-studies, recorded Step Code training webinars, technical assemblies booklets, and more in the Building A Legacy Toolkit @ www.communityenergy.ca/bal.

Incentives & Rebates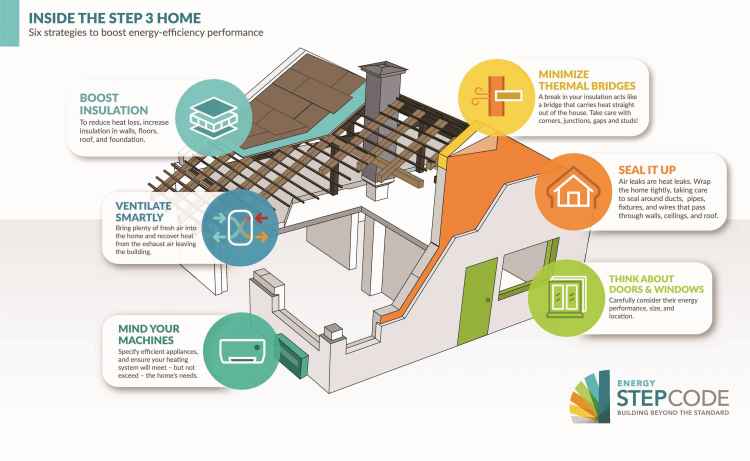 *check with your energy advisor and building official for any additional local incentives.
Additional Resources
BC Energy Step Code
https://energystepcode.ca/
East Kootenay Step Code Implementation Summary
www.communityenergy.ca/ekstepcode
Find an Energy Advisor
https://betterhomesbc.ca/
City of Cranbrook Building Bylaw 4029, 2021
https://cranbrook.civicweb.net/filepro/documents/?preview=56990
BC Housing Technical Resources: https://www.bchousing.org/research-centre/library
For more information, please contact Rob Dunker, Building Inspector at 250-489-0229.