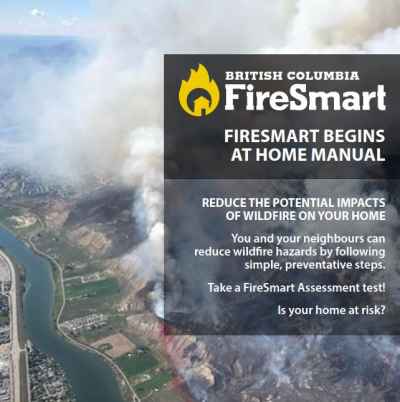 Interface fires are a very real threat, and Cranbrook is no exception. We are a community surrounded by thick combustible vegetation and without a Fire Smart plan in place; many of our homes are vulnerable to the effects of wildfire.
Each of us can share in the solution by taking responsibility and making our homes part of a Fire Smart Community. It's time for the citizens of our community to recognize that we all have a responsibility to make our community safe from wildfires. This is why Cranbrook Fire & Emergency Services is encouraging citizens and businesses to learn about what steps they can take to be FireSmart.

Homeowners have a responsibility to apply FireSmart principles to their homes and properties. There is often a false sense of security about protection from interface fires or a feeling that it is the responsibility of the government or the local fire department. In fact, if a homeowner does not apply FireSmart principles in and around their homes it is unlikely that their home would be defensible from a significant wildfire.
The wildfire issue is still a problem. In the face of a wildfire a home without FireSmart is facing significant risk.

Take the time to assess your property by downloading a copy of the FireSmart handbook.