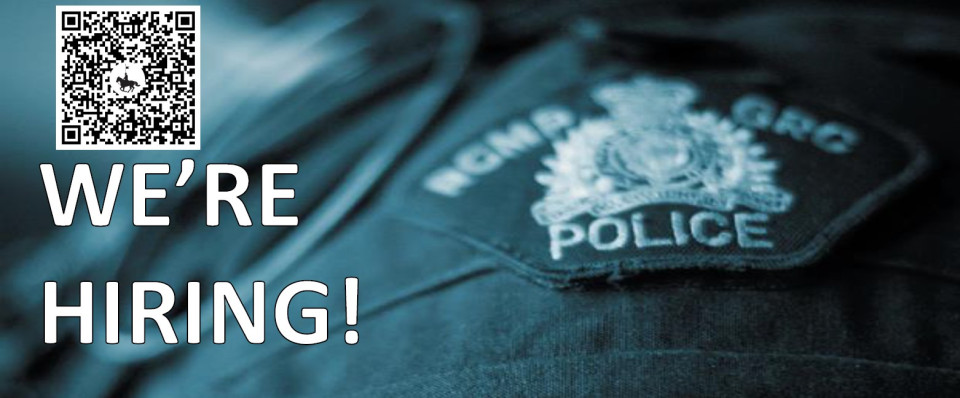 The RCMP is undertaking a national recruiting initiative for individuals to consider joining their ranks. Check out this information sheet for more details.
For more information, visit rcmpcareers.ca.
For BC residents, you can request more information by emailing: [email protected].
_______________________________________________________________

Community police services are provided by the Royal Canadian Mounted Police through a contract with the City of Cranbrook. The Cranbrook Detachment includes 26 municipal, 6 provincial and 3 federal positions making up 33 regular members. These 35 members are comprised of general duty, plain clothes serious crime section, forensic identification services, crime prevention and community policing and three Indigenous police services officers. Additionally, the detachment has the services of the Police Dog Service, and Victim Services. The detachment also has 13.5 positions for support staff and one public servant.
**Please note that fingerprinting services for forms including: criminal record checks, pardons, etc. are only available to residents of the City of Cranbrook.

General Contact:

Cranbrook RCMP Detachment
31 11th Avenue South,
Cranbrook BC
V1C 2N9

General Information/Requests: 250-489-3471

For emergencies requiring RCMP, Fire or Ambulance services, please call 911.
Click here for additional emergency contact information.

Learn about volunteer opportunities with the RCMP in BC including Block Watch, Volunteer Patrol, Citizens On Patrol, Restorative Justice and more here.