Cranbrook Fire & Emergency Services provides emergency services to approximately 24,000 residents within the City of Cranbrook and contract service areas within the Regional District of East Kootenay.

We are a composite department consisting of 25 career and 10 auxiliary members. Cranbrook Fire & Emergency Services mission is to provide efficient, effective professional emergency response and prevention services to our community. We also strive to build and maintain a positive work environment that encourages and supports personal and team initiative in service delivery.

In order to provide quality, professional services Cranbrook Fire & Emergency Services has adopted high level training and program delivery standards. CF&ES members possess and train to the NFPA 1001 Level 2 Professional Fire Fighter Standard. All Captains and Coordinators maintain NFPA 1021 Fire Officer Certification. The Fire Prevention Coordinator and Fire Training Coordinator maintain NFPA 1031 Fire Inspector and 1041 Fire Service Instructor respectively. Staff are also certified and trained for all programs provided to National Fire Protection Association Standards or Industry Best Practices. Members train annually to 400 training sessions per year and maintain operations and technical level certifications to safely and effectively provide the following core services.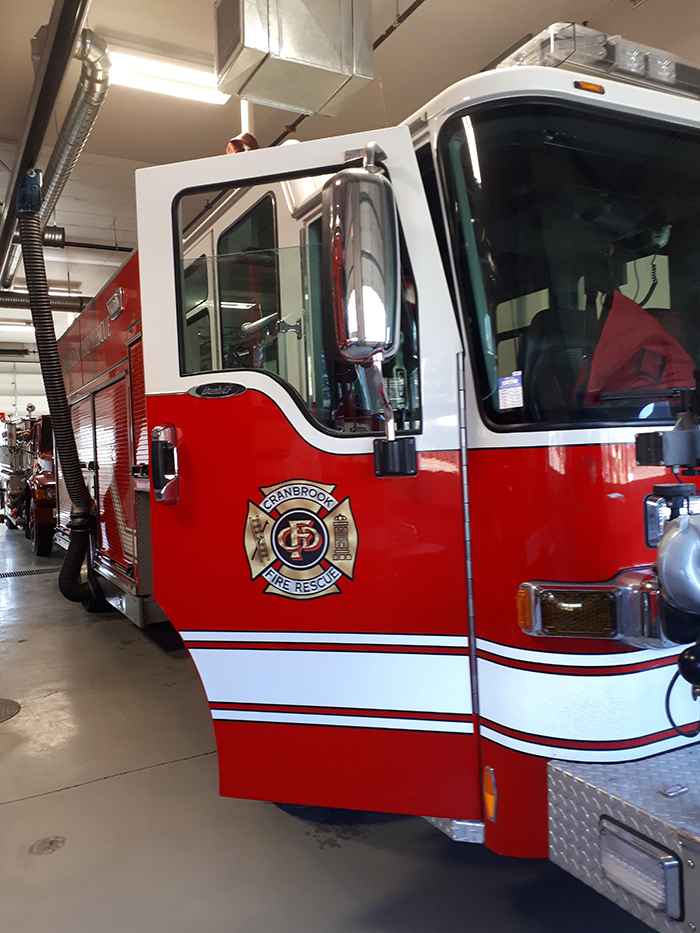 Cranbrook Fire & Emergency Services Core Services

• Provide Fire Suppression, Emergency Medical Response and Specialized Services to City of Cranbrook and RDEK Area C and ?aq'am.
• Provide Motor Vehicle Extrication, Confined Space Rescue, Hazmat Response, Swift Water Rescue and Ice Water Rescue.
• Perform public building fire inspections.
• Provide fire safety public education in the community.
• Responsible for enforcement of the BC Fire Services Act and the BC Fire Code.
• Responsible for the City's Wildfire Fuel Reduction Program.
• Partner with the East Kootenay Emergency Management Program.

Mailing Address:
City of Cranbrook Fire & Emergency Services
2503 2nd Street South
Cranbrook, BC V1C 1E3
Contact us by email

Phone (non-emergency): 250-426-2325.
Call 911 for any emergency.