This section provides information around current notices of disposition by the City, Official Community Plan (OCP) Amendments, Zoning Amendments, Bylaw Amendments and other required advertising as legislated by the Community Charter. Information in this section changes regularly, so please check back often for the latest.
If you have questions or require additional information, please contact:

Marnie Dueck
Municipal Clerk / Corporate Officer
City of Cranbrook

---
Public Consultation - Proposed Amendment of Official Community Plan
The City of Cranbrook has received an application to amend the City's Official Community Plan.
On January 24, 2022, City Council gave first reading to "City of Cranbrook Official Community Plan Amendment Bylaw No. 4077, 2022".
If adopted, the proposed Official Community Plan (OCP) amendment will change the land use designation of the subject properties from "Core Commercial" to "Low Density Residential".
Approval of the proposed OCP amendment will enable consideration of rezoning one the properties (Lot 13) from a commercial zone to residential zone.
The subject properties are legally described as Lots 13 & 14, Block 42, District Lot 5, Plan 669 and is located at 110 -12th Avenue South, as shown on the reference map below.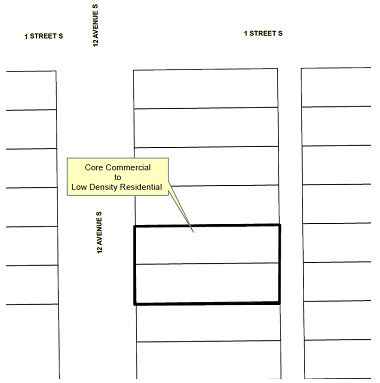 A copy of proposed "City of Cranbrook Official Community Plan Amendment Bylaw No. 4077, 2022" is posted at City Hall for public information. Proposed OCP Amendment Bylaw 4077 is also available with further information under the bylaws section of the January 24, 2022, regular Council Meeting agenda, which can be accessed and downloaded here.
Written comments on the proposed amendment of the Official Community Plan, may be submitted through the drop-off box at City Hall, or can be emailed to [email protected]. If you require further information, please contact reception at (250) 489-0230 to be directed to the planning section.

Please provide written comments by February 7, 2022.
---