Cranbrook, BC (May 9, 2022) – Reconstruction work on 4th Street North, as part of the City's overall capital works program for 2022 is ahead of schedule, as staff provided an update to Council on Monday night.
Removal of existing concrete and asphalt, water main tie-in on Victoria Avenue and the replacement of sanitary sewer mains and services are all complete. All properties on 4th Street North are being serviced with potable water through the onsite overhead water system.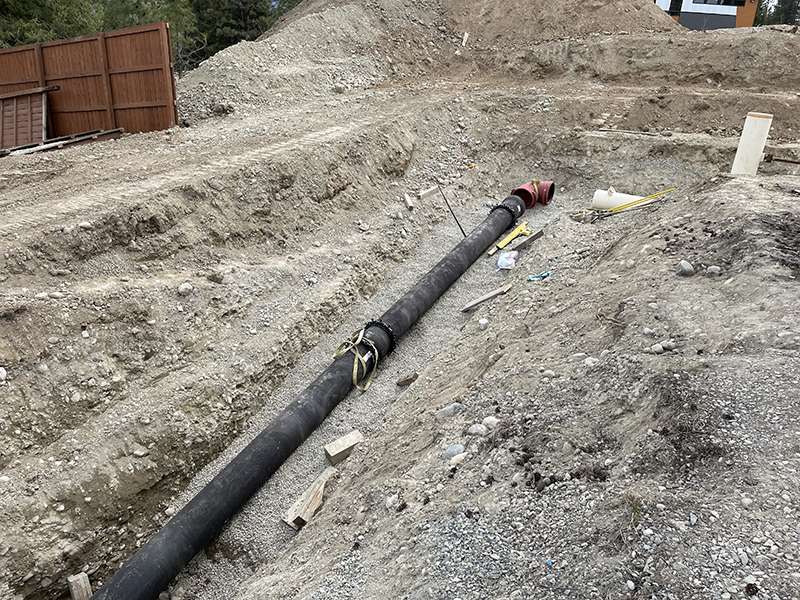 Work is also underway on the Wildstone PRV replacement project with underground piping now installed with new building feeds. Foundation work for the new building structure is slated to begin shortly. When the new PRV is to come online is still in planning stages, but it will affect water services to nearby residents. Public notifications will be provided well in advance of that activity later this summer.
On the repaving program for 2022, BA Blacktop has been awarded the contract for $723,776.00. Sections of Larch Drive, Slater Road, 12th Street North and Willowbrook Driver will see resurfacing starting in late May or early June.
On the Mount Royal phase two rehabilitation project, BA Blacktop is to mobilize in mid-May, however the full reconstruction planned for 12th Avenue South between 2nd and 3rd Street South has been postponed to a future year.
The City's lagoon cell one upgrade project has been awarded to Bad Ventures Ltd. All project materials have been ordered with construction work expected to start in June.
The intersection upgrade at Theatre and McPhee Roads is anticipated to begin in early July. The tender for the project, after consultation with CP Rail and BC Hydro is expected to be posted on BCBid before the end of May. Work on the intersection will include the installation of permanent traffic lights, upgrades to pedestrian crossings, sidewalk improvements and new pavement.
And Joseph Creek rehabilitation work to be conducted at 15th Avenue South and 1st Street South has been awarded to Gally Equipment Services. Construction will happen between July 15 and August 31, 2022 in compliance with the instream work window provided by the Department of Fisheries and Oceans.

Photo: A pipe is getting ready for installation as part of the Wildstone PRV Replacement Project, as part of the City's overall Capital Works program in 2022. Photo by the City of Cranbrook.