Cranbrook, BC (December 6, 2022) – Another capital works program for the City of Cranbrook is ending with several key projects complete.
Staff provided Council with an overview of the final few capital works projects at Council's meeting on Monday, December 5 – the final meeting of the year.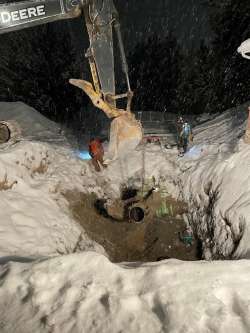 The new pressure-reducing valve (PRV) station at the entrance to Wildstone is fully operations and the new building has been assembled. A significant overnight water service shutdown for residents in Wildstone, Shadow Mountain and the Industrial Park was required during the overnight hours of November 16 and 17, 2022, as the old building was successfully disconnected from the live water system and was removed. Full site cleanup and some concrete works is on tap for the spring of 2023.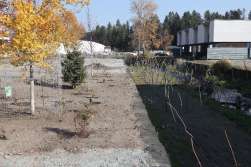 The Joseph Creek Rehabilitation project at 15th Avenue and 1st Street is complete. The new creek channel and flood bench are finished, the flex MSE retaining work is also complete. The new concrete box culvert installation for property access and the planting of the creek channel are also wrapped up. This project is a major step in the restoration of Joseph Creek.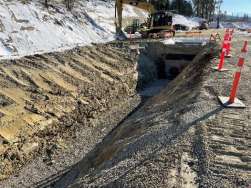 On the Lagoons Cell 1 upgrades, the desludging operations are complete. The contractor is installing the bypass piping. Due to some site conditions and delays, this project will not be fully complete until the spring of 2023, as work will continue through the winter months. The contractor will also continue with the dewatering of lagoon cell 1, along with regrading and raising the dyke berms in the spring of 2023.
And finally, delays in the delivery of some electrical parts is why the streetlights and intersection lights have not yet been installed as part of the McPhee and Theatre Road Intersection Upgrades project.
The components – the traffic control computer and the signal light poles were ordered and purchased by the City back in May 2022, before the project was tendered to ensure all parts would be here ahead of time. These parts were originally scheduled to arrive October 21 and are scheduled to be delivered by the end of November, at which time the contractor will be able to complete the rest of the project. Many of the City projects are being affected by supply chain delays, same as projects locally and all over the world.