Cranbrook, BC (April 20, 2023) – Firefighters in the City of Cranbrook saw a 20% increase in call volume through the first three months of 2023. Cranbrook Fire received 514 calls for service in the first three months of 2023, compared to the 427 they received over that same period in 2022. The distribution of these calls has not changed much over time; we continue to see the highest volume of calls in our downtown core and along the transportation corridor, where Victoria Ave. and Highway 3/95 intersect.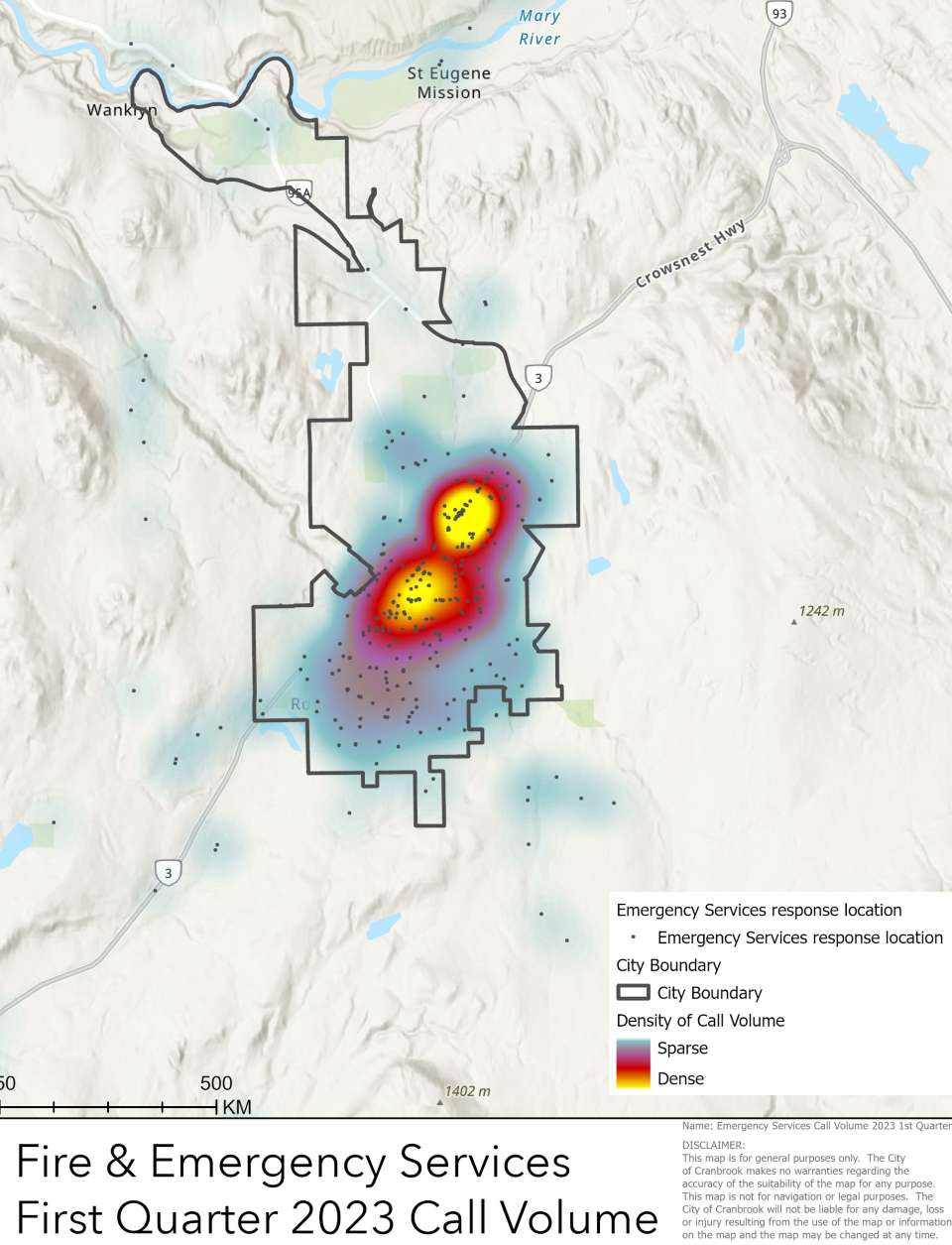 "Our firefighters are staying very busy as we get 2023 underway, with many of our call types experiencing increases as we've never seen before," says Scott Driver, Director of Cranbrook Fire & Emergency Services. "Medical responses are up 35% over the same period last year, and we have seen more than a 50% increase in outdoor fires as we exit winter. These outdoor fires are often warming fires, and when located close to structures or vehicles, can pose an exceptional risk to lives and property."
"As we can all see, there is a significant portion of calls for service within the vicinity of BC Housing's homeless shelter and near much of Cranbrook's encampment locations as we move through some of the coldest months of the year," Driver says.
"A growing demand for services results from the activities of individuals experiencing homelessness, as they try to stay warm, resulting in a growing number of calls to intervene and extinguish fires that are being used in an unsafe manner," Driver notes.
The other increasing issue in the community has been the opioid crisis, with three toxic drug alerts issued since the beginning of 2023. Each time an alert is issued, we see a spike in overdose calls throughout the community. 2023 has seen Fire & Emergency Services members experiencing significant increases in other call types. The first quarter of 2023 generated 336 emergency medical responses, 63 fire alarm activations and 29 responses to motor vehicle incidents.
"The housing and opioid crises have strained communities across the province, and Cranbrook has not avoided this issue. As our community grows, we expect to see an increase in calls. The role of the Fire Department is to address the changing emergency response needs of our community," Driver adds. "Certainly, acute increases in calls such as this put pressure on our people, but we are constantly working to find ways to deliver the service our community requires. Our team remains dedicated to providing efficient and effective services to this community. We are continuously adjusting to the demands of our industry, and we remain committed to being there for the people of Cranbrook."