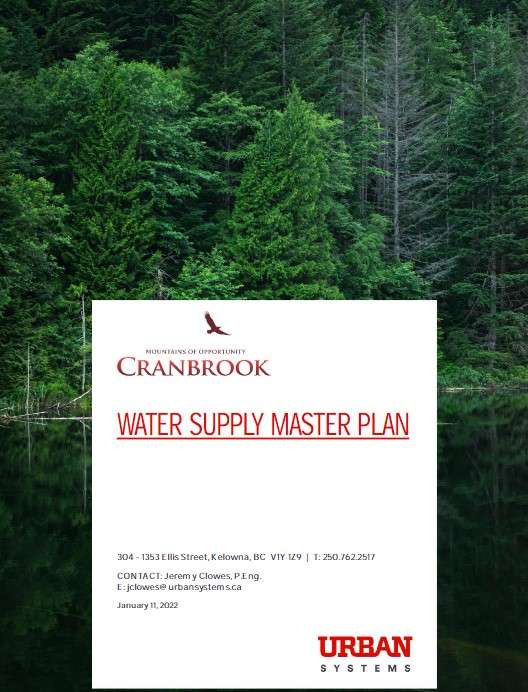 Cranbrook, BC (March 14, 2022) – Ensuring the long-term vibrancy of the City's potable drinking water supply is the key reason behind Cranbrook' s recently completed Water Supply Master Plan.
The creation of a water quality and supply master plan was one of the six highest priorities of Council identified in the 2020 – 2024 Strategic Plan.
The overall objective of the Water Supply Master Plan is to combine four strategic aspects of service: long-term supply management, source protection, treatment, and asset management. By integrating the strategic objectives for both the natural and built assets of the City, a holistic plan has been developed that will ensure the long-term viability of the City's potable drinking water.
"While annual infrastructure work such as pavement and utilities in City streets are often front and center from a public awareness perspective, the importance of this type of planning project should not be underestimated," says Mike Matejka, Manager of Roads & Infrastructure for the City of Cranbrook. "Council and the residents of Cranbrook should be proud of the resources and efforts put into creating an all-encompassing Water Supply Master Plan that will help ensure the sustainable delivery of our communities' most valuable natural resource for many decades to come."
The Water Supply Master Plan is a product that resulted from several years of staff and contracted professional resources, with Urban Systems being the leading consulting firm on the project. The process also included significant consultation with other government entities and stakeholders, including the RDEK, Province of British Columbia, Ktunaxa Nation, and entities with interests and activities in the Joseph and Gold Creek watersheds.
The recommendations and solutions provided in the Plan are already being incorporated into the City's operations and maintenance activities. Several significant capital projects contained within the Plan are also in the preliminary planning stage, including the upgrades to the Gold Creek diversion structure as well as a potential UV disinfection facility.
You can review the Water Supply Master Plan @ https://cranbrook.ca/our-city/city-departments/public-works/water-supply-master-plan/.