Cranbrook, BC (June 15, 2020) – Mayor Pratt and Council are looking for your input into the City's draft strategic plan by completing a short survey between today and Friday June 26, 2020.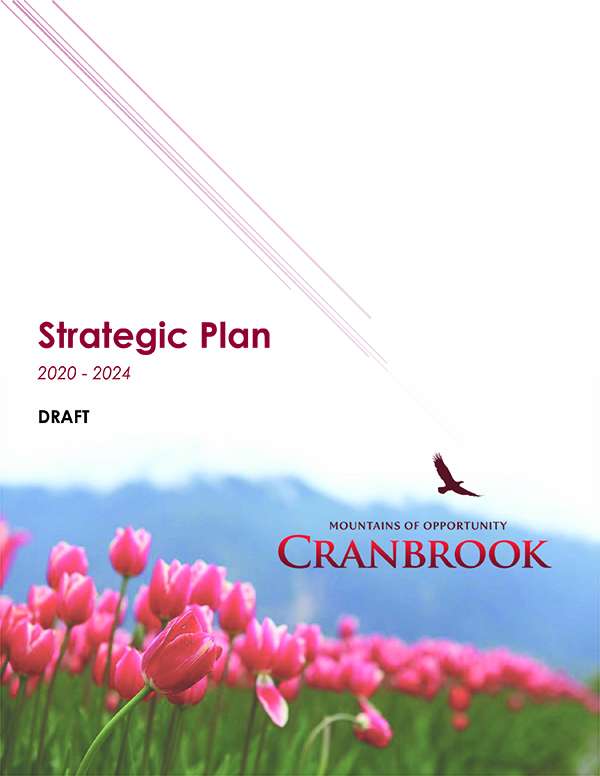 The draft plan is a vision for what success for the community looks like in a generation from now and will be the guiding document for Council. The draft plan also contains a series of goals and strategies designed to help get the City to that envisioned future.
"The strategic plan was developed with input from City staff and Directors of all departments, as well as City Council. There was a lot of discussion on many different areas, which have been considered. This plan is a result of those discussions and what the feeling was on areas of priority," says Mayor Lee Pratt. "It is not written in stone but is a guideline and going forward will be a work in progress. We are interested in community feedback, which will guide the process going forward."
The survey results will help the City determine whether the right goals are in place to help move the community to where it needs to be in the next 20 to 25 years. All the input gathered from the survey will determine some themes and will help update the draft strategic plan based on what our residents have to say.
You are encouraged to review the draft Strategic Plan on our website at https://www.cranbrook.ca/our-city/2020-2024-strategic-plan/ prior to completing the survey.
You can access the survey online at https://www.surveygizmo.com/s3/5654932/Cranbrook-Draft-Strategic-Plan-Engagement-2020, or you can pick up paper copies of both the draft strategic plan and the survey at City Hall. Surveys must be returned to City Hall no later than Friday, June 26, 2020.