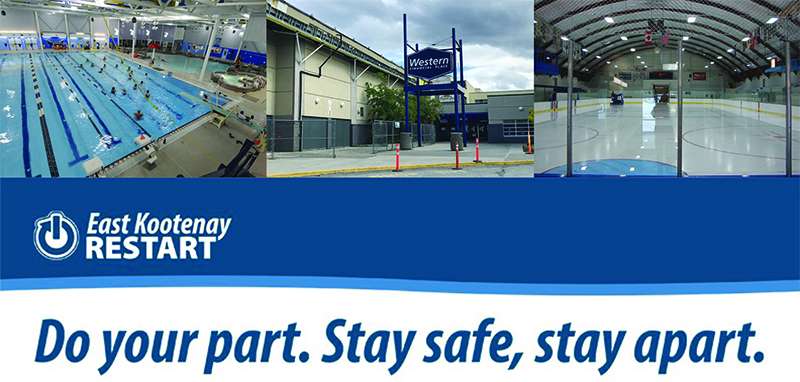 Cranbrook, BC (June 25, 2020) – Preliminary plans are in place for the reopening of several major indoor facilities in Cranbrook, following approval of a parks and recreation facility reopening strategy by Council earlier this week.
The City has been working closely with viaSPORT and the BC Recreation and Parks Association who is providing important guidelines province-wide to provide the opportunity for sports to return to several local facilities later this summer.
The reopening of the Aquatic Centre at Western Financial Place is tentatively scheduled for late August or early September, like many other municipalities around the Province following guidance provided just recently from the Provincial Health Office. Any opening is expected to have reduced hours initially, then gradually expanded if appropriate and safe.
Transmission of the virus through the chlorinated water is not an issue. Where the concern lies is around reduced capacity in the pool, appropriate activities allowed in order to ensure proper physical distancing, managing the movement of users through the hallways and changeroom areas, additional cleaning and personal protective equipment (PPE), and updated training for lifeguards and staff.
"We are following the provincially endorsed guidelines to gradually move to more access to recreation," says Chris New, Director of Community Services. "We were recently able to expand sport groups use on our fields and group bookings in our parks, still within a framework of restrictions. I anticipate some developments on outdoor splash pads soon. Now we will gradually work toward moving to re-open some indoor activities."
It is anticipated that the opening of ice at Western Financial Place will align closely with the aquatic centre reopening. The WFP rink is having a variety of upgrades that will take place through to August, which include board replacement, a new score clock and plant upgrades, and the pool will also benefit from a new chlorination system and sound baffling. While the Province has moved into Phase 3 of the Restart plan, the restrictions on contact sport and gathering of over 50 people remain in effect.
The Memorial Arena is slated to be open for use starting August 10 to allow for four different hockey camps and some other small group training sessions including figure skating to use the facility. Each group wishing to use the Memorial Arena will be required to put together a plan that follows all viaSPORT requirements and all requirements from the Provincial Sport Organization (PSO), along with being required to follow any facility specific rules the City implements. There will also be restrictions in place including number of spectators, maximum number of skaters, and no access to showers and changerooms.
The Kinsmen Arena will remain closed until further notice, along with all City splash pad and spray parks.
Just because many of our facilities are poised to reopen, and many of our outdoor spaces and amenities are already accessible, it does not mean things are back to normal when it comes to COVID-19.

It is important that everyone continue to maintain proper physical distancing and wear masks when that distancing may not be possible. You should continue to keep your circle small, wash your hands regularly and bring hand sanitizer with you when you are out. Stay home if you are sick and please be patient with other users around you.
Learn more about the status of our City facilities, outdoor spaces and amenities on our website @ www.cranbrook.ca/restart.