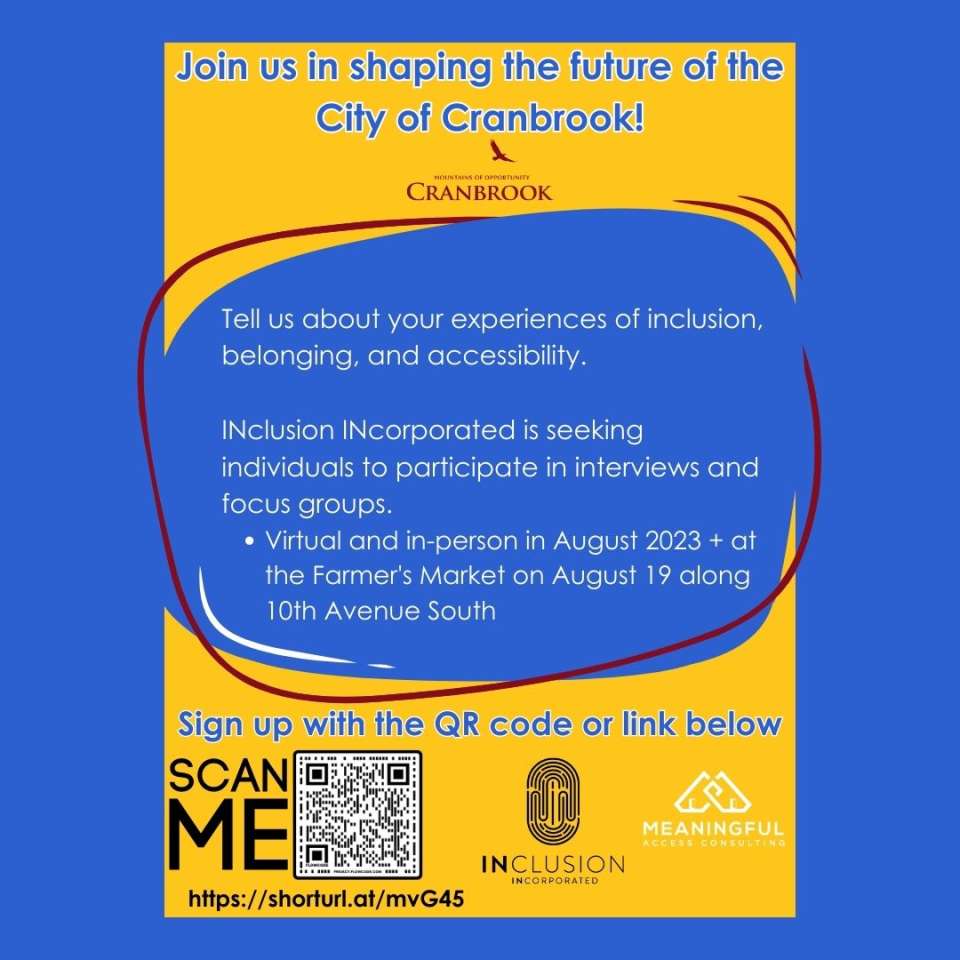 Cranbrook, BC (July 31, 2023) – Public input on several different fronts on Cranbrook's journey toward building inclusion, belonging and accessibility will be coming up later this summer and into the fall.
The City of Cranbrook is working with consulting groups INclusion INcorporated and Meaningful Access Consulting to develop a Diversity, Equity, and Inclusion (DEI) Framework and Accessibility Plan. To create this framework and plan, they are fact-finding to understand where Cranbrook is in its journey.
INclusion INcorporated team members will be at the Cranbrook Farmer's Market on Saturday, August 19th, from 10:00 am to 1:00 pm. It will be a time for conversations and to provide input to inform the City's understanding of the community members' everyday experiences of inclusion, belonging, and accessibility. The team is looking forward to hearing from residents and visitors alike. These conversations will be informal and completely voluntary.
One-on-one interviews and focus group sessions will also occur throughout the 2023 Summer and Fall. If you are interested in participating, please complete this form and a member of either the INclusion INcorporated or Meaningful Access team will contact you directly.
If you have any questions about this project, please contact [email protected].
Additional public input sessions will also be scheduled. We will share those opportunities at a later date.
To learn more about our Diversity, Equity and Inclusion program, visit our website at cranbrook.ca/diversity.