* Information provided by Keefer Ecological Services Ltd.
Cranbrook, BC (April 25, 2022) -- Elizabeth Lake is getting back to its roots (tree and shrub roots)! The local biodiversity hotspot hosts numerous nesting and migrating birds and various plants, animals, and insects. It is a popular spot that attracts bird watchers both locally and from afar and provides educational opportunities to local schools. The north end of the lake was an industrial site and has lost its native trees and shrubs along the shoreline.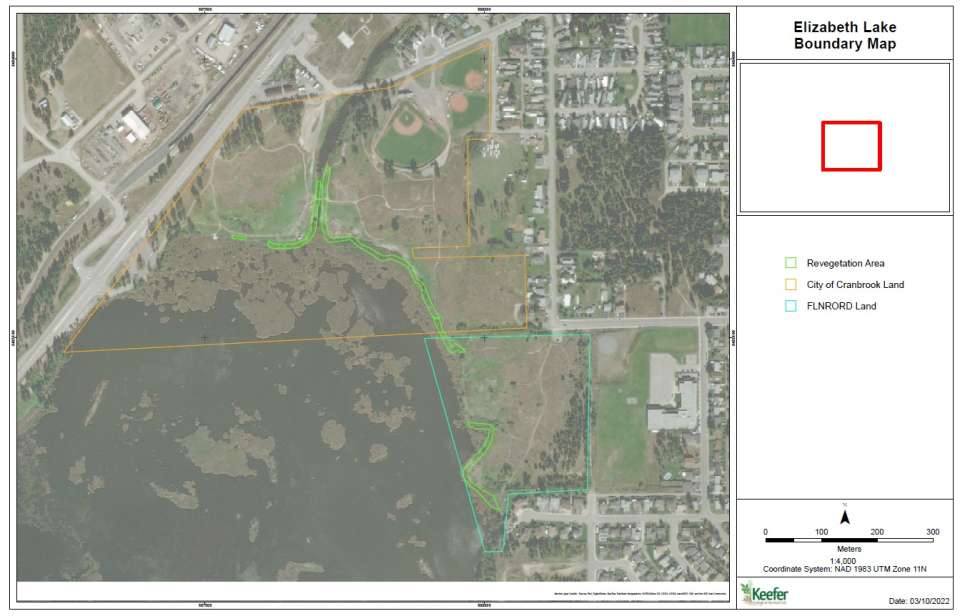 Throughout May 2022, native shrubs and sedges will be planted around the lake's northern perimeter with guidance from expert ecologists and biologists. Our goal is to improve diversity and plant cover, promote bird nesting opportunities, enhance carbon sequestration, and increase fire resiliency.

Excavators and crews will be working at the north end of the lake to remove the thick cover of weeds and prepare the ground for planting. Work will be carried out around the water channel at Confederation Park and approximately 700m along the northern shore of the lake. Grass will be removed from the site, new topsoil placed, and various shrubs planted. Fencing will also be added to limit grazing from deer. Fencing will stay for up to five years (or until the shrubs are large enough to survive browsing). In fall 2022, crews will plant young cottonwood trees to add to structural diversity.

Care will be taken to ensure the protection of nesting sites throughout the area. Access and bird viewing opportunities will be prioritized to ensure recreational enjoyment is maintained.

This project has received funding, support, and collaboration from:
Columbia Basin Trust
Rocky Mountain Naturalists
Keefer Ecological Services Ltd.
Ministry of Forest, Lands, Natural Resource Operations and Rural Development
City of Cranbrook
BE Civil Projects Ltd.
Fiorentino Bros Contracting Ltd.
Regional District of East Kootenay
Elizabeth Lake Lodge
Fish & Wildlife Compensation Fund
Broadstreet Properties Ltd.
If you have any questions about the project or are interested in contributing, please contact Baylie Sjodin @ [email protected].