Cranbrook, BC (June 29, 2023) – Residents, businesses and other water users on the City's water system are being asked to conserve and eliminate water waste, as we head into hot summer months. Typically, the highest water demands are through the months of July and August.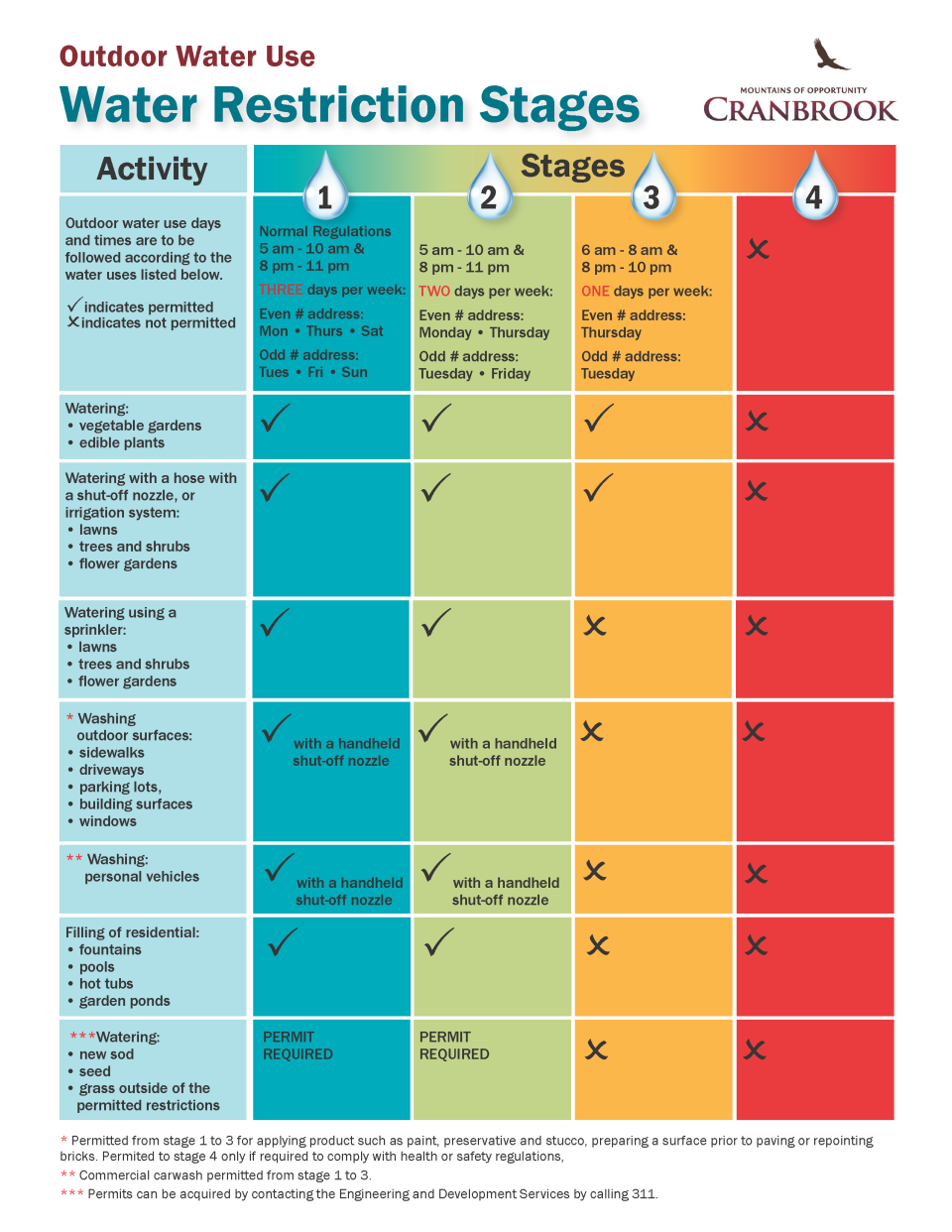 Late last week, the Province advised people right across BC to use seasonal water conservation measures as forecasts suggest much of the province will experience drought conditions through the summer months. The Phillips Reservoir, where the City gets its water supply, has consistent water flow and remains at good levels, but that isn't likely to last.
"Public Works Staff are monitoring reservoir and creek levels regularly," says Jason Perrault, Acting Deputy Director of Public Works. "If everyone considers limiting their water usage now, we will be in a better spot when we really need it"
The City's Outdoor Water Use & Regulation Bylaw No. 4091 highlights the importance of not wasting water.
You are asked to not use ponds, waterways, water features, fountains, hot tubs, or swimming pools which don't have a water recirculation device. Allowing water to flow freely from your property into a sanitary or storm sewer, creek, your street or neighbouring properties is also not allowed at any time.
You must have an automatic shutoff device on all your water hoses, and irrigation systems (either manual or in-ground systems) that spray water onto areas that can't use water, such as driveways. If you need help adjusting your systems or need assistance in determining your outdoor water needs, you can sign up for a free lawn and garden assessment with our Water Ambassador by emailing [email protected].
Currently the City remains in its normal Stage 1 watering restrictions, which allows even numbered addresses to water three times per week (Monday, Thursday & Saturday) and odd numbered addresses to water Tuesday, Friday, and Sunday. Watering times are between 5:00 a.m. and 10:00 a.m. or 8:00 p.m. to 11:00 p.m. on your watering day. Learn more about our current outdoor watering restrictions by visiting www.cranbrook.ca/residents/water-conservation/outdoor-water-management/ for up-to-date information.