Cranbrook, BC (June 13, 2022) – Activity on the City's overall 2022 capital works program is in full swing with most projects now under full construction. Staff provided Council with an update on a couple of key projects at their regular meeting on Monday night.
The deep utility installation of new water, sanitary and storm sewer is complete and is fully operational on 4th Street North. All residents are now receiving water service through the new water main. The installation of new streetlights is well underway with expected completion by the end of this week. The road base construction is nearly complete with concrete curb preparations underway with concrete pouring expected over the next couple of weeks. The project contractor is on track to have 4th Street North completed ahead of schedule.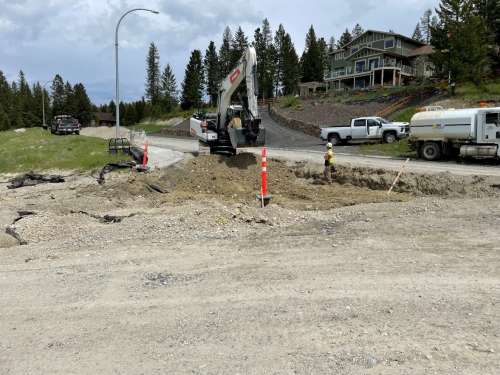 The majority of concrete replacement areas are now complete with new concrete curb and sidewalk in place, as part of the Mount Royal Phase 2 reconstruction project. The major areas of concern have been dug out and reconstructed with new materials. Base gravel placement expected to be completed this week, with paving of most areas to be completed by the end of June.
Meantime, all the new underground pipework at the PRV location at the entrance to Wildstone is complete, along with the new building foundation and concrete slab having been poured. All above ground piping and the commissioning of the station is scheduled for late June or early July.
Residents in that area can expect some minor single-lane alternating traffic delays during the installation of curb and sidewalk. Dates for this work to be done are being determined. The public will be advised once these dates have been confirmed.
One water shutdown is expected to occur in late summer or early fall to safely remove the old building and underground piping. This disruption will be advertised well in advance and work will be completed during the night to minimize the impact to residents.
Staff is set to meet with the contractor to plan the staging of the work on the Lagoons Cell 1 upgrade. Staff is waiting on the delivery of materials to the site, with the contractor to begin site mobilization mid to late June. The City is waiting on the provincial approvals in order to start this project.
The Theatre and McPhee Roads intersection is anticipated to start construction in early July. The detailed design is finished and the consultant is finalizing the tender package with it being posted to BCBid by the end of the week.
Work on the 15th Avenue and 1st Street South Joseph Creek Rehabilitation project is slated to begin on July 15, as per the permit from the Department of Fisheries and Oceans (DFO). The contractor Gally Equipment Services is ready to start on July 15.
And all four locations slated for paving work on Larch Drive, Slater Road, 12th Street North and Willowbrook Drive are now complete. Line painting is to be completed in the next two weeks.