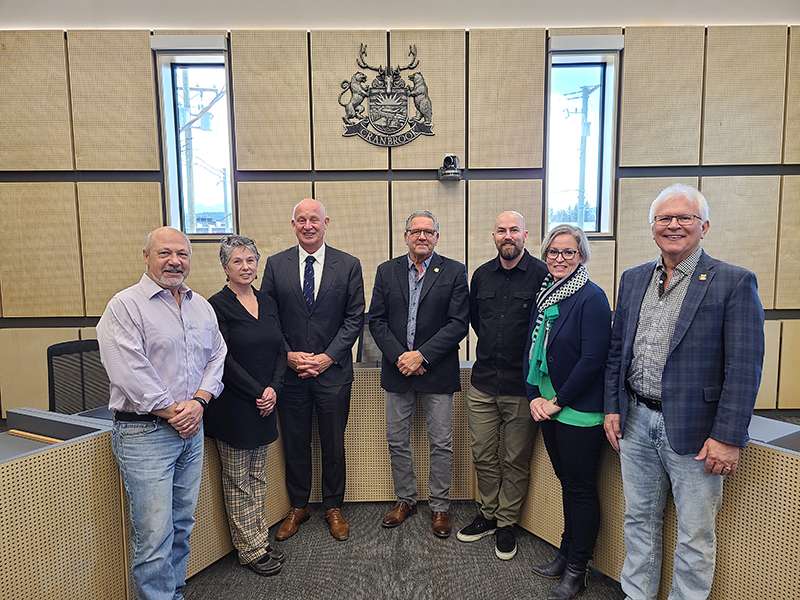 (Left to right): Councillor Ron Popoff; Councillor Norma Blissett; the Honourable Mike Farnworth; Mayor Wayne Price; Councillor Mike Peabody; Councillor Lynnette Wray; Councillor Wayne Stetski. Not pictured Glen Lewis, Director of Police Services. Photo: City of Cranbrook.

Cranbrook, BC (May 24, 2023) – Members of City Council met with the Honourable Mike Farnworth, BC's Minister of Public Safety and Solicitor General and BC's Director of Police Services Glen Lewis on Wednesday, May 24, 2023, in the new Council Chambers at City Hall.
Minister Farnworth and Mr. Lewis are currently on a Kootenay Interior tour, making stops in Cranbrook and several other municipalities and held a Safer Communities Roundtable discussion with Council today. The goal of the session was to identify the top safety concerns in Cranbrook and to understand what needs to change to make Cranbrook safer.
"On behalf of Council, I want to thank Minister Farnworth for taking the time to meet with Council," says Mayor Wayne Price. "I was certainly left with the impression that both Minister Farnworth and Mr. Lewis were truly concerned with the safety issues in Cranbrook and are committed to working with the City on these issues."
"Of the local public safety, crime (specifically frequent and repeat theft and property crime), drugs and enforcement concerns we brought forward about Cranbrook, they were aware of our issues and indicated they are in the process of looking at changes in programs available in order to address them," says Mayor Price. "We also discussed social issues, affordable housing other partnership opportunities between the Province and the City for improving the safety of living in Cranbrook."