Cranbrook, BC (May 1, 2023) – 975 tonnes of recyclable material has been collected from curbside bins in Cranbrook over the last two years, as our curbside recycling program marks its second anniversary this week.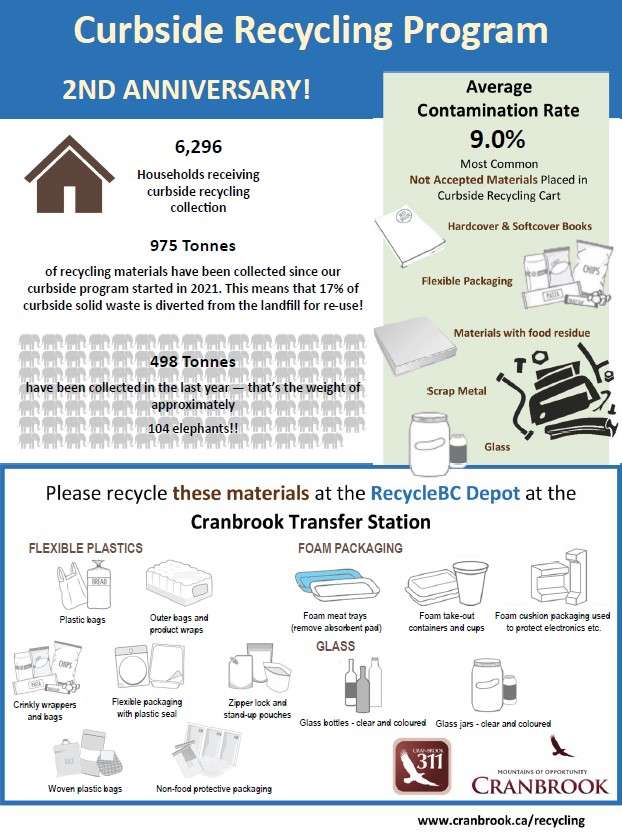 There are now 6,296 curbside recycling bins in use across the City. Our amazing residents are using these bins to divert 17 percent of our total collected solid waste from our landfill, and this material can be re-used.
"Without the support of our residents embracing our curbside recycling program over the past couple of years, it would not be the success it has become. This has helped keep such an impressive amount of reusable material out of our landfill," says Mayor Wayne Price. "Thanks to our staff, the Regional District of East Kootenay and RecycleBC for their continued support of this important initiative."
Materials like glass, plastic bags, plastic overwrap, other flexible plastic packaging and foam packaging are all recyclable. Still, they must be dropped off at the RecycleBC Depot at the Cranbrook Transfer Station – not left in your curbside recycling carts.
You can also find more details about the recycling program, including pickup schedules, cart information and proper cart placement, acceptable materials, a 'What Goes Where' guide and a series of frequently asked questions.
Be sure to sign up for garbage and curbside recycling reminders to get notifications about your weekly pickups to your email or smartphone and never miss another collection day. Sign up at https://cranbrook.ca/recycling.