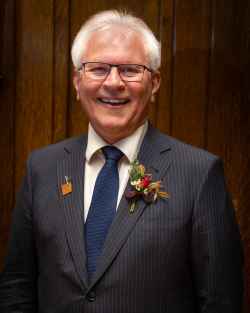 Committees: Community Social Planning Society of Cranbrook & Area; Ktunaxa Kinbasket Treaty Advisory Committee.

Career Achievements: During my professional career I worked for Parks Canada, Manitoba Parks, BC Parks – Lower Mainland/Vancouver Island/East and West Kootenays, BC Ministry of Environment – Kootenays, and the East Kootenay Conservation Program.
I got involved in politics because I like helping people, and you can accomplish a lot for the environment through politics. I have served as Member of Parliament (MP) for Kootenay-Columbia, Mayor of Cranbrook, Director for the Regional District of East Kootenay and Director for the Kootenay East Regional Hospital District. When I was MP I was Vice Chair of the House of Commons Environment and Sustainable Development Committee.
Giving back to my community has always been a priority for me. I have served as Chair, Director or Volunteer with 15+ societies, organizations and groups in Cranbrook during the 32 years we have lived here.

Personal Information:
Audrey and I raised 3 children primarily in Cranbrook. She was a Teacher and Educational Assistant in local schools and has also been active on a number of boards and societies. One of her passions is music, including founding the Funtastics, a weekly drop-in singing group – you're invited!
It is an honour to now serve you as a Cranbrook City Councillor!

Click here to contact Councillor Stetski
Click here to contact Mayor & Council