(With files from the Province of British Columbia) - Beginning Tuesday June 15, 2021 British Columbia will take the next step in safely bringing people back together, transitioning into Step 2 of BC's Restart plan, including lifting restrictions on travel within B.C.
Public health safety protocols, such as mask wearing in all indoor public spaces and physical distancing, will remain in place during Step 2. As well, personal indoor gatherings will be limited to five visitors, or one other household.

Moving from Step 1 to Step 2 includes:

• B.C. recreational travel – non-essential travel ban lifted. Out-of-province non-essential travel advisory continues;
• maximum of 50 people for outdoor personal gatherings;
• maximum of 50 people for indoor seated organized gatherings (e.g., movie theatres, live theatre, banquet halls) with safety plans;
• indoor faith gatherings – a maximum of 50 people, or 10% of a place of worship's total capacity, whichever number is greater – with safety plans;
• maximum of 50 spectators for outdoor sports;
• liquor service at restaurants, bars and pubs extended until midnight; and
• indoor sports games (no spectators) and high-intensity fitness with safety plans.
All other capacity limits and guidelines listed in Step 1 stay in place unless noted in the list above.

The earliest target start date for Step 3 is July 1, and Sept. 7 for Step 4.

Learn more about the announcement made Monday June 14, 2021.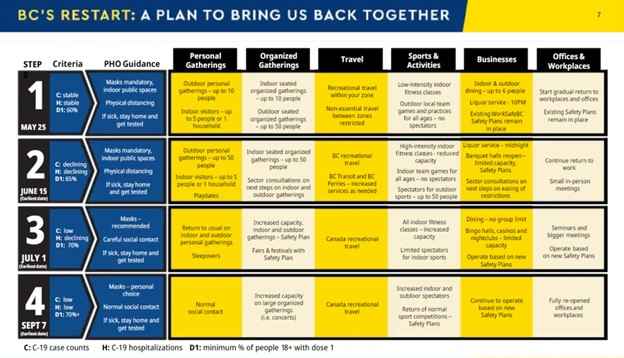 ​​​​
The City has also enacted measures to support local restaurants to expand outdoor patio spaces during COVID-19. All necessary information and application forms for the outdoor patio program can be found on our website at www.cranbrook.ca/patios.

Every effort is being undertaken to ensure the health and safety of our staff and the public. The City is aligning our services and how we conduct business with the requirements provided by WorkSafeBC. You can review a copy of the City of Cranbrook COVID-19 Strategic Safety Plan here.

Our customers are strongly encouraged to continue to access City information and services by phone or by email wherever possible. Reception areas at City Hall, Building and Bylaw Services, Public Works are all open to the public. The Cranbrook Fire Hall, the Memorial and Kinsmen arenas remain closed to public access until further notice.

Customers who require a visit to any of our office facilities must understand and obey the following guidelines:
If you have underlying medical conditions, it is recommended that you do not visit our municipal hall or facilities.
Anyone displaying symptoms of COVID-19, which primarily displays as a persistent cough, will not be permitted on the premises. If you are sick, please stay home.
If you have travelled outside Canada, you are not permitted on our premises until you have self-isolated for a minimum of 14 days.
If you are displaying symptoms of COVID-19 or you live in a household where someone is showing symptoms of COVID-19, please stay home.
Physical distancing is always required (minimum of 2 meters).
Failure to observe physical distancing risks the closure of the facility, and as such, you will be asked to leave the premises.
Washrooms on the premises are disinfected frequently and hand sanitizers are available.
We ask that any financial transactions be conducted electronically and not in cash.
Our reception areas now have plexiglass barriers in place, with hand sanitizer available. Customers coming to City Hall will be greeted outside the building and will be allowed into the main reception area at a maximum of 2 people at a time. If you appear to display sickness, you will be asked to leave and instead contact us by phone or email so we can assist you.

Staff will continue to respond to public inquiries and requests by both phone and email:
General Inquiries: 311
Payments, Utilities & Property Taxes: 250-489-0233
Recreation & Culture: 250-489-0220 or 250-489-0221
Public Works: 250-489-0218
Building Inspections: 250-489-0207
Cemetery Information: 250-489-0230
Bylaw Services: 250-489-0263
Fire & Emergency Services: 250-426-2325
(non-emergency only, otherwise call 911)

Latest City COVID-19 Related News
You can also follow us for the latest information on our Facebook, Twitter and Instagram pages.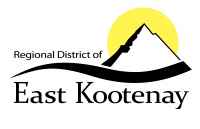 Regional COVID-19 Snapshots
(courtesy of the Regional District of East Kootenay)
The monitoring of, and response to, COVID-19 is being led by local, provincial and federal health authorities (not local government). It is important to make sure we rely on facts and have strong sources of information in our arsenal.
Key Information & Links
School COVID-19 Exposures - Interior Health (partnership with school districts to support information-sharing when there are COVID-19 exposures at schools)
Small Business BC (providing support for small business with information around available programs from the provincial and federal governments).
COVID-19 Information Line **FOR NON-HEALTH INFORMATION** - 1- 888-COVID19 (1-888-268-4319).
The line is open seven days a week, from 7:30 a.m. to 8 p.m. PST.
811 - dial 811 for health-related information on COVID-19
COVID-19 Self-Assessment Tool - use this simple online tool to complete a self-assessment if you have symptoms of COVID-19 or are wondering if you should be tested.
BC Centre for Disease Control Latest Updates - an excellent resource. Bookmark and use this site.
Government of Canada - includes links to latest statistics, travel info and economic and financial supports available through the Federal Government.
Province of BC Information Hub - includes links to Provincial supports for non-health information (childcare, travel advisories, employee/employer resources).
Public Health Agency of Canada Information Line - 1-833-784-4397.