Do your part, Stay safe, stay apart. Moving the region safely forward. Together.



Last updated – November 24, 2020
** New provincial health orders are in effect across the Province, announced by Dr. Henry Thursday afternoon (November 19). Please read the latest Regional Update for more information as provided by the Regional District of East Kootenay. You can download the report here. These orders will remain in effect until at least Monday December 7, 2020 at midnight. Please check back regularly for updates. You can also follow any of our social media pages, too. We appreciate your patience and understanding during this time.
Aquafit Classes at Aquatic Centre Suspended Temporarily as Province Updates Guidelines (November 24, 2020)

Following guidance from the Province of BC and the Provincial Health Officer, the City of Cranbrook has re-opened most facilities, with certain parameters the public is being asked to abide by. As more facilities are phased in, this page will be updated. We ask you to visit this page often to get up to date information on what recreational opportunities are available at the City, during the COVID pandemic.
Our residents can enjoy the following City recreation facilities. Please follow the guidelines and best practices for each activity listed below:

Western Financial Place (Aquatic Centre, Ice Surface & Walking Concourse)
Download the reopening informational flyer here.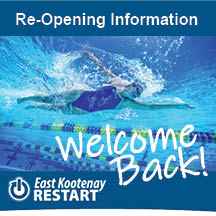 Operations will look very different than they did prior to the COVID-19 pandemic. The facility will not be open to the general public. All patrons will be required to be pre-registered for all activities as drop ins for programs and services will not be permitted at this time. This is required to facilitate staff safety, maintain our ability to contact trace, and keep us operating within the rules and guidelines surrounding COVID-19.



To reserve a time, please use our online registration portal. You can also call our main desk @ 250-489-0220 or 250-489-0221 between 9am – 4pm Monday to Friday. Due to the large volume of calls, it may take our team a day or two to get back to you. You are strongly encouraged to reserve online.

Activities that will be offered are lap swimming, private lessons and swim therapy.
The concourse walking program will be re-opened to a set schedule and will have limits to the number of participants at this time. There will be a (1) one-hour maximum time limit for each prescheduled walking session. Walkers will be required to preregister as no drop in walking will be permitted at this time.
New protocols have been developed which will guide users on how they will register for activities, enter and exit the building, how they must pre-register for all activities, how they will be screened for any COVID symptoms, mask usage, and other requirements.
Cranbrook Public Library
The Cranbrook Public Library is open 7 days per week. Provincial inter-library loans have also been reinstated. The Library has also installed a new self-check out kiosk and a cloud library app to provide contactless borrowing options for users. Visit their website for more information at www.cranbrookpubliclibrary.ca/.

Parks & Greenspace (including Moir Park)
Parks and green space has remained open but is only for activities that can respect the general guidelines around safe physical distancing, and for family and small circle use. Family picnics are welcome. Organized field sport activities, even team practices are not permitted.

Public Washrooms
Outdoor public washrooms at Rotary, Kinsmen, Gyro, NorthStar Rails to Trails and Idlewild Park on the lake level, opened on May 29th. Idlewild playground level washroom reopened June 1st. Washrooms at Moir Park, Kinsmen Quad Ball Park and Lions Mountain View field will remain closed for the short term. Park washrooms are open from 10 am to 8 pm. Please note that washrooms are only cleaned 1-2x daily. Users should follow all the safety guidelines, and carry their own hand sanitizer or wipes when using public facilities.

Trails
The City has a variety of trails including Rotary Way and the NorthStar Rails to Trails. Cycling, jogging and walking are some of the activities you can enjoy. Please maintain the 2m distancing, and make extra space on the right of the trail when someone is passing you from the opposite direction.

Tennis and Pickleball
Keep 2 metres apart at all times, including if you are waiting for a court
Limit play to singles, or doubles play with partners from the same household or within your small circle
Do not share racquets or other equipment
Clearly mark your ball and refrain from picking up others' tennis or pickleballs
Casual game play only: no lessons or league play allowed
Remain courteous and limit play time to 30 mins when others are waiting
Leave the court when you are done

Disc Golf
Keep well distanced and limit your groups to three participants (four if within family or close circle). Do not share discs. Please use the "Ten foot Gimme" - If you are within ten feet of the basket, don't putt it out - to help limit hand contact at the basket.

Basketball Courts – McKinnon Park
Two nets are now open at the McKinnon Park location. For individual and family use. Users should not share equipment.

Skateboard Park
Keep your distance while skateboarding. Do not share equipment. If the park is busy, please try another time. Please do not congregate in the area if you are not participating in the activity. The onus is on the users to work within these guidelines to ensure the facility is able to remain opened.

City Playgrounds and the Seniors Fitness Park (Western Financial Place)
These facilities are open. These facilities are not cleaned, so users are strongly urged to bring their own hand sanitizer and follow the general safety guidelines.

Fishing
Idlewild Lake remains open for fishing. Keep your distance and don't forget to follow the Provincial Fishing Regulations currently in place.

Riding Arena (Idlewild Park)
For individual use only. Please limit to no more than two horses on site at a time, and limit riding if others are waiting.
While each activity has some specific guidelines, the public is responsible for deciding on whether they choose to participate or to use these spaces. Remember that no matter which activity, you should abide by these general guidelines:
stay home and away from others if you are sick
following physical distancing by keeping at least 2m apart from others
practicing good hygiene by washing hands before and after visiting amenities
be self sufficient and carry your own hand sanitizer/wipes
keeping your circle small. Keep your group limited to members of your household and very select friends/family
no congregating in groups and no large group activities
wait your turn at a safe distance and give everyone the opportunity to enjoy the facilities


You can continue to find the latest news and information around the COVID-19 response both locally and regionally on the City's website at https://cranbrook.ca/residents/covid-19-updates-information/. You can also find important links to additional information from both provincial and federal health agencies and governments.