The City of Cranbrook surface water supply comes from two Watersheds. The City obtains its raw water from the Joseph and Gold Creeks, which are diverted into the Phillips raw water reservoir. Existing conditional water licenses include:
• Joseph Creek (#39845) for 3,770,000 imperial gallons per day (198 L/s)
• Gold Creek (#39842) for 8,077,000 imperial gallons per day (425 L/s)
The maximum quantity of water that may be diverted based on these licenses for the City's domestic use is 11,847,000 imperial gallons per day (623 L/s). Gold Creek and Joseph Creek Watersheds are located southeast of the city.
Located approximately 4.5 km southeast of Cranbrook, the Phillips Reservoir is the sole storage facility for the City. It was created in 1974, with the construction of an earth-filled dam on Joseph Creek. The reservoir holds approximately 2.3 billion litres (500 million imperial gallons) of water that will settle out particulates before raw water is transferred to the treatment facility.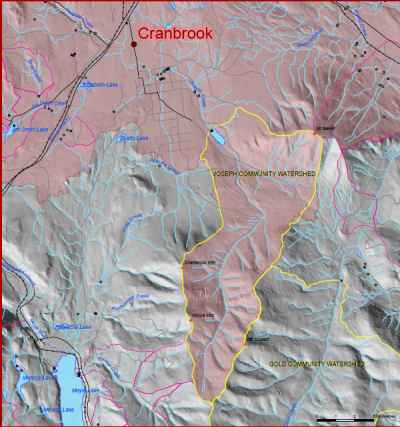 City of Cranbrook Watersheds. Image courtesy of the Province of British Columbia.