Residents of Cranbrook are set to go to the polls in May 2019 in order to fill a vacant Councillor position.
VOTING will be open to qualified electors of the City of Cranbrook as follows:
General Voting: Saturday, May 11, 2019 (8:00 am to 8:00 pm)
Prestige Rocky Mountain Resort, 209 Van Horne Street, Cranbrook, BC
Advance Voting:
Wednesday, May 1st , 2019 (8:00 am to 8:00 pm)
Wednesday, May 8th, 2019 (8:00 am to 8:00 pm)
Parkview Pavilion Senior Centre, 125 - 17th Avenue South, Cranbrook, BC
Additional information about the by-election will be provided below as it becomes available.
Declaration of Official Election Results 2019 *Added May 13, 2019
Election Results & Statistics 2019 *Added May 13, 2019
Meet The Candidates
Declaration of Election by Voting
Declaration of Candidates
Notice Of Nomination
Where & When To Vote (Locations & Times)
Elector Qualifications
Voting By Mail
Key Dates

Qualifications For Office
A person is qualified to be nominated, elected, and to hold office as a member of Council if they:
(1) are a Canadian Citizen;
(2) 18 years of age or older;
(3) have been a resident of British Columbia for at least 6 months immediately before the day nomination papers are filed; and
(4) are not disqualified by the Local Government Act/School Act or any other enactment from voting in an election in British Columbia or from being nominated for, being elected to, or holding the office.
Interested persons can obtain nomination packages from the City of Cranbrook City Hall 40 – 10th Ave. South, during regular office hours (8:30 a.m. to 4:30 p.m.) until the end of nomination period (April 5th @4pm).

Campaign Expense Limits
In accordance with the Local Elections Campaign Financing Act, for the 2019 Councillor By-Election, the following expense limits for candidates during the campaign period apply:

Third Party Advertising Limits
In accordance with the Local Elections Campaign Financing Act, for the 2019 Councillor By-Election, the following third party advertising limits apply: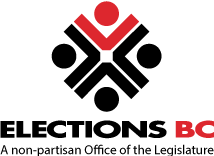 For further information on campaign expense limits and third party advertising limits, please contact Elections BC:
Toll-free phone: 1-855-952-0280
Email: [email protected]
Website: www.elections.bc.ca/lecf

For more information, please contact:

Sarann Press
Chief Election Officer
Toll Free: 1-866-371-4666
eMail: [email protected]
Leanne Jensen
Cell: 250-919-5348
eMail: [email protected]
Marnie Dueck
Municipal Clerk / Corporate Officer
Phone: 250-489-0226
eMail: [email protected]