Municipal general elections in British Columbia are held every four (4) years. The next general election in the City of Cranbrook will be held Saturday October 20, 2018.

General Voting

Saturday October 20, 2018
8:00am to 8:00pm
Laurie Middle School Gymnasium
1808 2nd Street South, Cranbrook

Advance Voting

Wednesday, October 10, 2018
8:00am to 8:00pm
Parkview Pavilion Senior Centre
125 - 17th Avenue South, Cranbrook

Wednesday October 17, 2018
8:00am to 8:00pm
Parkview Pavilion Senior Centre
125 - 17th Avenue South, Cranbrook


Special Voting Opportunities
(For admitted patients or
facility residents only)
Friday October 19, 2018
East Kootenay Regional Hospital - 1:00pm to 4:30pm
Dr. F.W. Green Memorial Home - 10:00am to 11:45am
Joseph Creek Village - 9:00am to 2:00pm
Mountain View Village - 5:00pm to 5:45pm
Scott Villa - 9:15am to 9:45am
Joseph Creek Care Village - 2:00pm to 5:30pm

Important Links
Election Declaration Of Official Election Results **October 24, 2018
'Unofficial' Results - 2018 Municipal Election Media Release (October 20, 2018)

All-Candidates Forum Video (Hosted by JCI Kootenay - Friday October 5, 2018)
Elector Qualifications
Voting By Mail / Request A Mail Ballot Package
Declaration Of Candidates
Declaration of Election By Acclamation
Declaration of Election By Voting
Notice of Election
Advance Elector Registration & Elector Qualifications
Notice of Nomination
Election Signage
Election Signage On Highway Rights-of-Way (provided by Ministry of Transportation & Infrastructure)
Additional Information (provided by the Ministry of Municipal Affairs)
You've Decided To Run For Local Office (Informational Videos)
General Local Elections
General Local Elections 101
Thinking About Running For Local Office
What Every Candidate Needs To Know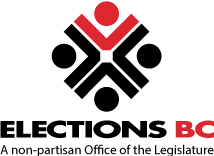 For information around local election campaign financing and related questions, please contact: Elections BC @ 1-855-952-0280.
For more information, please contact:
Sarann Press, Chief Election Officer
Phone: 1-866-201-3638
[email protected]
---

Below is a link to the financial disclosure statements from each candidate for Mayor and Council in Cranbrook from the 2014 election campaign period as provided by Elections BC.
2014 General Election Disclosure Statements
2014 Municipal Election Official Results Declaration