The City of Cranbrook (City) Community Climate Action Plan (Community Plan) carves a path towards a low carbon future: A future where City residents experience the benefits of a connected, healthy, and economically prosperous community, while taking action on climate change and adapting to climate impacts. This Community Plan supports the City's Strategic Plan commitments of mitigating the impacts of climate change; protecting the environment to maintain our healthy ecosystems; and fostering partnerships with community members, provincial and municipal governments to reduce the duplication of efforts and decrease costs. The purpose of this Community Plan is to outline a practical approach for the City to use its capacity, as a municipality, to help residents and businesses save energy and, by doing so, save money and reduce greenhouse gas emissions.

The greatest contributions for the City to date in reducing GHG emissions and mitigating climate impacts at a community level include:
| | |
| --- | --- |
| | GHG Reduction Target |
| Baseline Year | 2030 2050 |
| 2007 | 40% 80% |
The City has set targets for 2030 (40% reduction) and 2050 (80% reduction), with the year 2007 established as a baseline.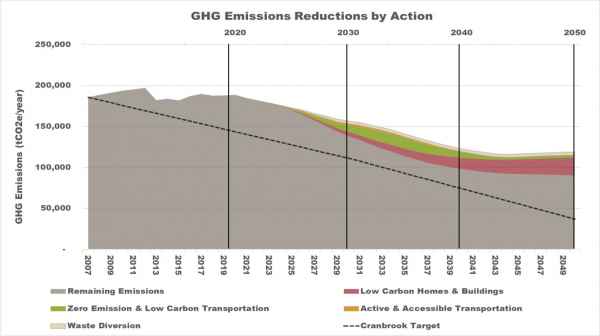 The City's Climate Action Big Moves have been separated into five categories that have impact on reducing GHG emissions in the community. This focuses on the types of GHG emission reduction initiatives that can be supported by local government, in partnership with local businesses, organizations and residents.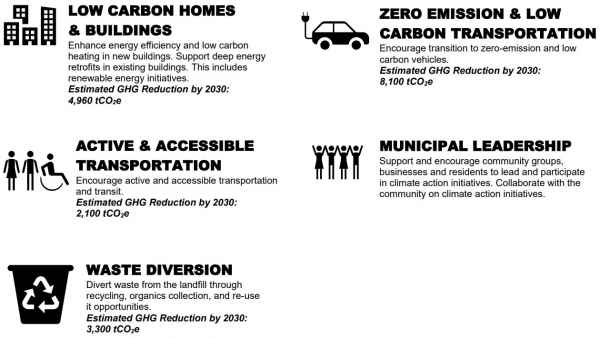 If you are interested in making a difference in climate change as an individual, but aren't sure how, check out this page on residential energy conservation.