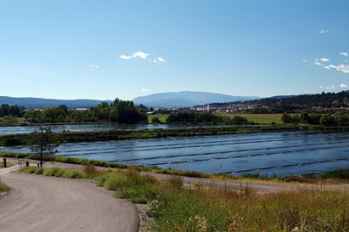 Wastewater is collected from the City's Sanitary Sewer System and treated at the lagoons before being pumped to the Spray Irrigation Site.

The process begins with Fats, Oil, and Grease (F.O.G.) being separated from the wastewater at the screening facility at the headworks. Solids, plastics, and paper are then screened and separated and disposed of at the regional landfill. The remaining wastewater then enters the lagoons cells where aeration and natural processes are utilized to begin treating the wastewater.

The wastewater is then screened again before being pumped to the Spray Irrigation Site for further treatment and land application.
Odors associated with Lagoons
It is not uncommon for municipal wastewater lagoons to experience problems with offensive odors. Odors can be a general nuisance with lagoons and can occasionally result in complaints. Spring time seems to account for a larger number of complaints of odor problems being reported.
What makes spring lagoon stench so severe?
In the spring, increased sunlight warms the top layer of the lagoon, melting the surface ice and allowing sunlight to penetrate, creating convection currents. Gradually, with the sun's warmth and wind, the entire lagoon reaches a uniform temperature and circulation increases.

This increased circulation disturbs the accumulated sludge and solids that have been lurking at the bottom of the lagoon, a phenomenon knows as lagoon turnover. The solids get pushed to the surface, releasing hydrogen sulfide (H2S), the stinky gas that is generated by anaerobic digestion.