Styrofoam? Yep, bring it down. Aluminum foil and pie plates? Of course. How about my kids' zippered snack pouches? Don't throw them out, we'd be happy to recycle them. We want to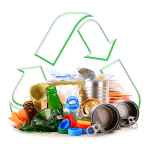 reduce the amount of waste that gets stuffed back into the Earth and increase the number of items that we can recycle into new products that benefit the global community.
Learn more about the new way to recycle, thanks to the Regional District of East Kootenay. Learn more by downloading the information brochure.
For more information about the Cranbrook Transfer Station, visit https://www.rdek.bc.ca/departments/environmentalservices/garbage_recycling/cranbrooktransferstation.