** Please Note - effective January 2021 all container glass must be disposed of at the Recycle BC Depot - Cranbrook Transfer Station. Learn more by visiting the RDEK website @ https://www.rdek.bc.ca/news/entry/changes_to_glass_recycling_on_the_horizon.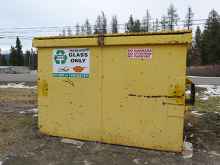 Yellow recycling bins are still monitored and maintained by the Regional District of East Kootenay. These bins are located at all of the local schools in Cranbrook and at a number of local businesses. These bins are all open to public use. Community recycling depots have also been set up at the Cranbrook Transfer Station, College of the Rockies parking lot, and the Cranbrook Bottle Depot.
For information on specific bin locations, please contact the Regional District of East Kootenay at 250-489-2791.