Cranbrook, BC (December 10, 2018) – Changes are coming to the way you can register for many of the programs and classes offered through the City's Community Services department. Starting on Tuesday December 11, staff will begin using a new program called Perfect Mind to organize leisure registrations.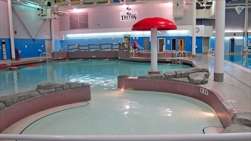 As with any new software launch, there may be some unforeseen issues. Staff will do their very best to minimize any delays in the registration process. The City is asking for patience from its customers as this new software comes online.
"We expect there will be some slightly longer processing times for customer transactions, at least in the short-term as we work through this new software," says Paul Heywood, Acting Director of Community Services. "As with any new software, there can be some hiccups. We appreciate the patience and understanding of our residents and customers looking to sign up for many of our winter programs. We will do our very best to get these transactions completed as quickly as possible for you."
Into the New Year, the City will be working to bring Perfect Mind to the public to help improve the customer experience when signing up for classes and programs, by allowing users to register online. This new system will allow users to view and register online for swimming lessons and other programs and will be able to get notifications of any class changes or cancellations by email automatically.
The City remains committed to continuously finding ways to improve its services to all its customers through innovative means.