Cranbrook, BC (July 5, 2018) – Another round of painting, as part of the City's Cycle Network Plan is scheduled for next week.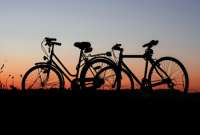 Painting crews will be laying down bike symbols and other markings on 1st Street South, 7th Avenue South, 11th Avenue South, 14th Avenue South and on College Way. Line painting – the placement of a double line – creating lanes specifically for the use by those on bicycles was completed in mid-June.
It is important for the public, both cyclists and vehicle drivers that these lanes and new markings are specifically for cycling and will not be in full operation until all signage is installed.
The City will be preparing and providing a public education program over the summer to the public about what the different signage and lane markings will mean.