Cranbrook, BC (September 7, 2018) – All participants and volunteers for the Kimberley-Cranbrook BC 55+ Games will get to ride transit for free in Cranbrook from Wednesday September 12 to Friday September 14, proudly supported by Council.

All registered individuals will have an accreditation badge that confirms their participation in the Games, making it easy to identify for transit drivers in both Cranbrook and Kimberley.
Cranbrook Transit will be running a shuttle bus from all of the hotels, through Western Financial Place to the College of the Rockies from 7am to 10am Wednesday, Thursday and Friday. Cranbrook Transit's regularly scheduled #5 bus will also run its usual route between Western Financial Place and the College of the Rockies to augment service.
The City of Kimberley is also providing free transit service to accredited athletes and volunteers, which was announced last week. In Kimberley, transit will provide an extra bus and driver specifically for transportation around the community and to and from the various locations, running from 7am to 3pm daily.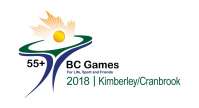 For more information about the Kimberley-Cranbrook 55+ BC Games, visit their website @ http://www.55plusgames.ca/.