Free Irrigation Assessments Will Be Available Again Beginning Early July
Cranbrook, BC (May 1, 2018) – The City's successful water conservation education program gears up for another summer season today, with the announcement of Erik Nicolajsen as the City's 2018 Water Ambassador.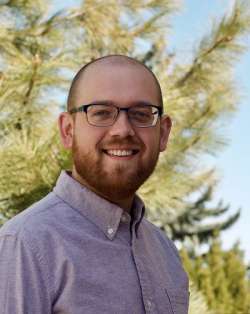 The Ambassador program is designed to help residents understand the importance of outdoor water conservation, while helping them get the most out of the water they do use. In the long run, reducing your outdoor water use reduces the City's costs in needing to treat and transport water to your home.
"I am excited for this opportunity to engage in conversations of sustainability with Cranbrook residents through the summer," Nicolajsen says. " I look forward to helping people use effective strategies to manage our water usage as we reach the hotter months, and to make water conservation straightforward and simple."
Free irrigation system assessments for both residential and commercial water customers will be available again this year, on a first come first serve basis. The public is encouraged to take advantage of the free assessments. Information about how to sign up for an assessment will be made available in the next few weeks.
"I am excited to have Erik on board as our Water Ambassador this summer," says Chris Zettel, Communications Officer with the City. "Over the past five years, we've had many great ambassadors and I think Erik will fill this role very well. I hope that residents will take the opportunity to meet Erik and take advantage of the irrigation assessment program."
Click here for more information about the Ambassador program and the City's overall water conservation initiative.