City's Administrative Charter Provides Corporate Focus, Commitments to Better Serve Public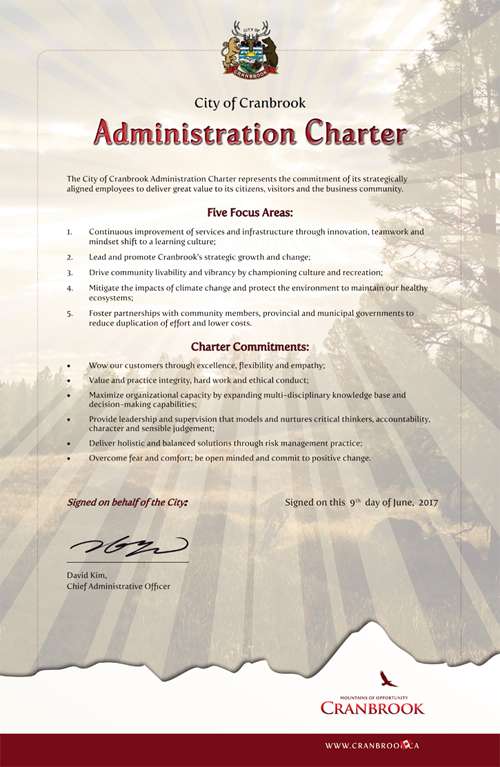 Cranbrook, BC (August 28, 2017) – Delivering great value and customer service to citizens, visitors and the business community is the commitment of management and staff of the City of Cranbrook with the recent implementation of its Administration Charter.
The Administration Charter identifies key focus areas which present citizens and business owners with what they can expect from the City, as well as declaring clear commitments of staff in order to deliver our mandates. The five focus areas include:
• Continuous improvement of services and infrastructure through innovation, teamwork and mindset shift to a learning culture;
• Lead and promote Cranbrook's strategic growth and change;
• Drive community livability and vibrancy by championing culture and recreation;
• Mitigate the impacts of climate change and protect the environment to maintain our healthy ecosystems;
• Foster partnerships with community members, provincial and municipal governments to reduce duplication of effort and lower costs.
One of the key priorities of CAO David Kim when he began with the municipality in early 2016 was to change the culture of the corporation to a much more collaborative and customer focused approach to doing business. This Charter provides a clear policy to staff in our day-to-day practice and to provide clarity to citizens around how those goals will be met.
"This Charter is important because we wanted to declare clearly about what our values are and our code of conduct," says David Kim, Chief Administrative Officer for the City. "This not only helps staff by providing guidelines and a reference to gauge our performance, but also helps our citizens understand what is expected from civic staff."
"This Charter puts into writing clearly what this Council's goals and objectives were from the very beginning of our term," says Mayor Lee Pratt. "We are very happy that it has been defined and I would like to thank CAO David Kim for all of his effort in bringing this forward."