Cranbrook, BC (March 12, 2019) – With warm weather on the way, the City of Cranbrook is reminding residents to exercise caution on roads and waterways that may become hazardous with melting water. While Public Works is currently removing snow and opening storm drains in priority areas, the City also asks that citizens help in any way by calling 311 to report plugged drains or directly remove snow and debris if safe to do so.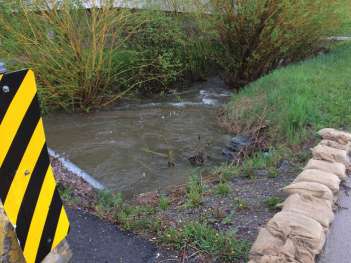 In the bigger picture, the City of Cranbrook is in the middle of several major investments in planning and construction in order to be proactive in flood mitigation and stormwater management. The City recently completed a fully grant funded Flood Risk Assessment through the National Disaster Mitigation Program and is anxiously awaiting to hear back on the second intake for the program that would provide improved and updated flood mapping for the waterways within the City. If the City is successful in receiving that grant it also has $50,000 in the 2019 budget to incorporate an Asset Management Plan for major creek and storm water infrastructure upgrade and renewal planning. Both endeavours will be supported by the City's $220,000 Creek Flow Monitoring Project set to be completed in 2019 that will actively monitor flows on all creeks entering the City in order to rapidly respond to high flow events as well as design future infrastructure upgrades using accurate real-world data.
In addition to the planning projects, the City is continuing to make capital investments in Creek and Stormwater Upgrades through two major projects planned for 2019. A Storm Sewer Trunk Main upgrade is planned for Kootenay Street and 4th Street NW to improve flow and capacity in an area that has seen backup and flooding issues in the past. The City is also optimistic it will receive Federal DFO approval to proceed with creek channel upgrades at 15th Avenue and 1st Street South that will improve capacity and mitigate seasonal flooding issues that have occurred at this location. Both projects combine for over $1,400,000 budgeted funds for work that is anticipated to occur later in the summer during the approved fisheries window.
All these projects are a part of the City's comprehensive approach to minimize flood impacts and improve creek function, including methods such as stormwater retention, storage and infiltration, as well as functional treatment methods such as the Stormceptor system installed on Cobham Avenue in 2018.
As the City moves into the spring months, taking steps and the proper precautions to protect your home and property from possible flooding is important. Being proactive and working to stop drainage problems before they start can save money and headaches down the road.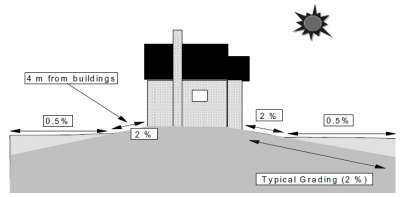 Take the time and effort to ensure your lot is graded properly, with the ground sloping away from your home so water drains away from your foundation. Grading your lot so water runs toward the street wherever possible is one of the most important things you can do as a homeowner.
Installing backwater sanitary valves – devices designed to allow water to flow in one direction only, can offer a decreased risk of a sewage backup in your home, if it is installed correctly and properly maintained. Properly installing sump pumps to drain into your yard or the storm sewer system and not the sanitary sewer is also important step in preventing sewage backups.
To help property owners better protect their properties, the City has created an information rich webpage in flooding preparation. There is information on a variety of potential flood risks and suggestions of ways you can help minimize the potential of flood damage, from simple and inexpensive fixes to more labour intensive and longer-term projects.
Visit https://cranbrook.ca/assets/test/our-city/city-departments/public-works/flooding-information/ for more information.