Cranbrook, BC (April 19, 2018) - With 3 major projects already tendered and awarded, the City of Cranbrook has put itself in a strong position to get work started early and on budget from its local contractor partners who are eager to mobilize now that spring is finally here.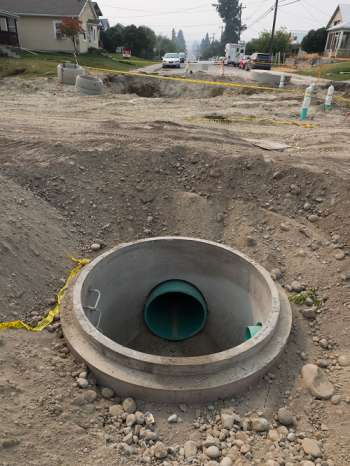 The largest project is the first phase of Cobham Avenue Reconstruction, which will go from King Street to Laurier Street. This contract was awarded to BA Blacktop and will involve an upgraded industrial road surface along with new curbs and storm sewer system to address the drainage problems that have been prevalent in the area. Access to local businesses and residents along Cobham Avenue will be maintained as much as possible throughout the project, however, detours will likely be in effect for residents in the Cross Roads and New Lake area to utilize the Jim Smith Lake Road highway access as this will prove to be the safest and most reliable way to and from town during construction. Work should be underway by early May with targeted completion by the end of September.
Work on 9th Street South between 5th and 9th Avenue is already underway with old asphalt and concrete being removed and a temporary water service being installed before the new distribution system is being constructed. This project will provide a new water main and services to each property, as well as a new road surface and sidewalks. Work is expected to be completed in August by contractor Mackay Contracting Ltd.
B.E. Civil Projects Ltd. has been awarded the most recent project, the reconstruction of 12th Avenue between 4th and 5th Street South. Similarly to the 9th Street Project, this project will involve the replacement of the old water main and water services as well as a new road surface with sidewalks. Work is expected to be underway by the beginning of May with completion targeted for early August.
Written notifications for any access or service disruptions, as well as schedule updates, will be provided by the Contractor for these projects. Contractors will also be required to post signage on each site with their contact information for any inquiries or concerns. The affected residents are asked to use the Contractors contact information for any urgent matters, as they should be best prepared to address any issues that arise on the project site.
Photo provided by Brian Clarkson.