* With files provided by Cranbrook Age Friendly Community Advisory Committee.
Cranbrook, BC (May 14, 2018) -- The world's population is rapidly aging, and British Columbia is no exception. By 2031, close to 1.5 million British Columbians across the province will be over 65—almost a quarter of the province's population. Currently 36% of Cranbrook's population is 55+. This will rise to 41% by the year 2035.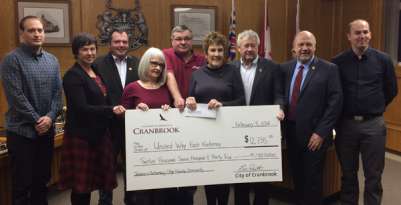 Around the globe, communities are getting ready to meet the challenges and take advantage of the opportunities of an aging population.
To meet these challenges, the City of Cranbrook, in conjunction with the Cranbrook Age Friendly Advisory Committee will be conducting public consultations to gather information and assess how age friendly Cranbrook is now and what areas may need improvement. Sessions will be held Saturday May 26th, Saturday June 2nd and Saturday June 9 from 1:00-3:00pm at the Senior's Hall Branch 11, 125-17th Ave South, Cranbrook. Refreshments will be served.
At the consultations, information will be provided on what an Age Friendly community is and how Cranbrook can benefit from becoming more Age Friendly. In addition, all in attendance, will be asked to complete a short 20-minute survey about Cranbrook, based on the 8 key pillars of an Age Friendly community. The survey will be available in paper or electronic format, so bring your tablet, phone or computer if you wish.
The information compiled will help the Committee develop a detailed action plan that will work to ensure Cranbrook will be ready to tackle the challenges and opportunities of a changing population base.
For more information, please contact Charlene Sperling @ 250-919-3244 or by email @ [email protected].

Photo: Members of Council presented Seniors In Partnership representatives Melanie Fiorentino, Sandy Zeznik and Doug Newberry (centre) with the first installment of the Age-Friendly Community Grant funding at the Monday February 5, 2018 Council meeting. City of Cranbrook photo.