Cranbrook, BC (June 7, 2019) – Fire fighters with Cranbrook Fire & Emergency Services responded to a structure fire on the 300 block of 5th Avenue South Friday morning.
The call arrived at 10:09am, with one engine and four firefighters arriving initially several minutes later. Upon arrival, officials called in an additional 15 firefighters and a second engine to respond.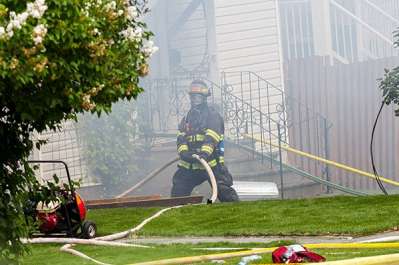 The fire spread to a neighbouring home which was also actioned by the fire department. An additional three residences to the north of the fire were also evacuated as a precaution.
The home was occupied at the time. Quick actions by a neighbour alerted the occupant and they were able to get out safely. No injuries were reported.
Crews remain on scene Friday afternoon conducting the mop-up and watching for hot spots. The investigation into the cause is underway.

Photo courtesy of e-Know.ca