Cranbrook, BC (December 6, 2017) – Providing important information to first responders quickly is critical in ensuring your well-being in any emergency. Being in an accident or having a medical emergency and not being able to tell responders important medical information can create some challenges.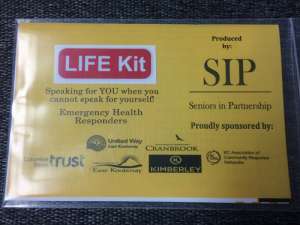 To help, the United Way East Kootenay has spearheaded 'Seniors in Partnership Life Kits' which contain important and valuable contact, medical, allergy, medication, DNR, doctor and medical condition information, which can provide first responders vital information when no one else is available.

"The City of Cranbrook and Cranbrook Fire & Emergency Services is proud to support this initiative undertaken by Seniors in Partnership," says Bill Munro, Fire Prevention Coordinator with Fire & Emergency Services. "Information included in these kits can help responders assess situations and get you the care you need much more quickly. Our firefighters are now carrying these free kits and will distribute them to the public on calls where it is appropriate."
The kits are sponsored by the United Way, along with the City of Cranbrook, Columbia Basin Trust, the Regional District of East Kootenay, the City of Kimberley and the BC Association of Community Response Networks.
Free kits are also available for pick up at the United Way office at 903 Baker Street in Cranbrook. You can also contact Carey Henry, Seniors Navigator with Seniors in Partnership by emailing [email protected] or by calling 778-517-5123.