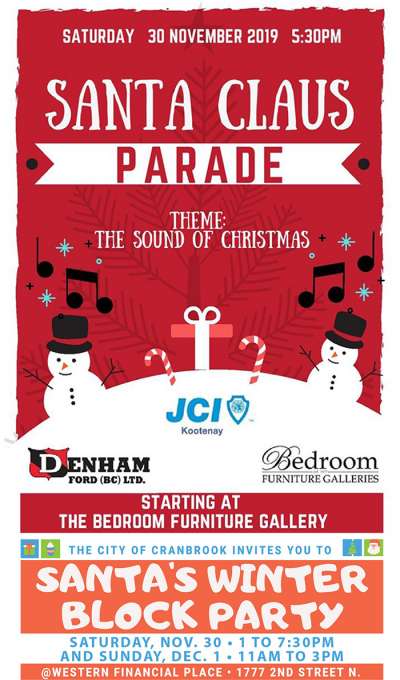 Cranbrook, BC (November 20, 2019) – The 49th annual Santa Claus Parade in Cranbrook set for Saturday November 30 will temporarily impact downtown parking, vehicle traffic and BC Transit service.
The parade set for 5:30pm will follow the route along Baker Street from 8th Avenue South through to Western Financial Place, where the festivities continue with Santa's Winter Block Party including low-level fireworks and a huge special holiday market with over 80 vendors, organized by the Cranbrook Farmer's Market.
8th Avenue South at 1st Street South through to 9th Avenue South will be closed to all traffic starting at 3:00pm through to 8:00pm to allow for the parade to form. There will be no parking allowed along the parade route beginning Saturday afternoon. Please respect all signage in place to keep the parade route open for floats and for those attending the parade.
All transit routes will be operating as normal up until 5:15pm to allow for residents to get downtown prior to the parade. All transit routes will then resume normal service beginning at 6:30pm immediately following the parade.

For more information about the parade, visit the JCI Kootenay Santa Claus Parade Facebook page @ www.facebook.com/cranbrooksantaclausparade.