Cranbrook, BC (December 11, 2017) – Another ice training session is set for Friday December 15 at Idlewild Lake for members of Cranbrook Fire & Emergency Services from 9 to 11:30am.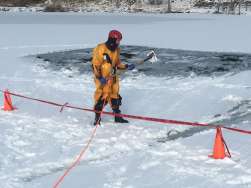 The area being used is well marked. Please stay well back of that area for your own safety.
Members of Fire and Emergency Services use these exercises to refresh their ice rescue skills, with each member given the chance to enter the water both as a patient and a rescuer. This allows responders to practice various methods of ice rescue in a controlled and safe environment.