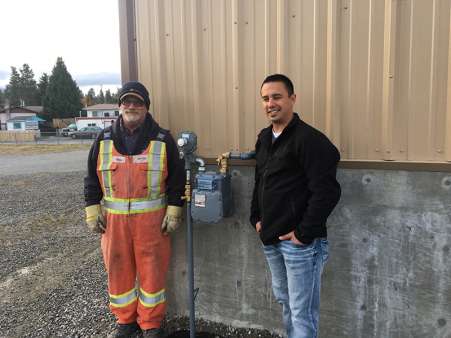 Glen Bock, Construction Crew Leader Fortis BC (left) and Dustin Livingston, Operation Supervisor FortisBC (right). Photo courtesy Cranbrook Fire & Emergency Services.
Cranbrook, BC (October 16, 2019) – A new partnership with FortisBC will provide important hands on natural gas emergency training for members of Cranbrook Fire & Emergency Services with the introduction of a moveable, mockup natural gas meter for the department's training building.
The mockup gas meter complete with riser and shutoff is easily moveable and provides firefighters a more realistic training experience and better practice identifying meter locations, meter shut off and fire mitigation exercises.
"Most training facilities have gas meter mockups, but they tend to be stationary in nature, so the repeatable training value is limited," says D'Arcy Kennedy, Training Coordinator with Cranbrook Fire & Emergency Services. "Having a meter that can be relocated, allows staff training to become more realistic and relative to the conditions our crews would regularly find in the field."
"Big thanks to FortisBC for this important training aid for our crews," says Scott Driver, Acting Director of Cranbrook Fire & Emergency Services. "We have a great training facility and this additional aid will help reinforce best practices for our officers and crews when doing daily training."
Collaborative training sessions between FortisBC and Fire & Emergency Services are scheduled for the spring. The sessions will work to create a better understanding of how each agency handles gas-related emergencies and identify how each agency can better assist the other.