Cranbrook, BC (June 20, 2019) -- The City of Cranbrook has seen great progress on its annual Capital Works Program early in the first half of 2019. With paving complete on the 8th Avenue Road and Watermain project and soon to follow on the 13th Avenue Road and Watermain project, these are shaping up to be some of the earliest completion dates for full reconstruction projects in the City.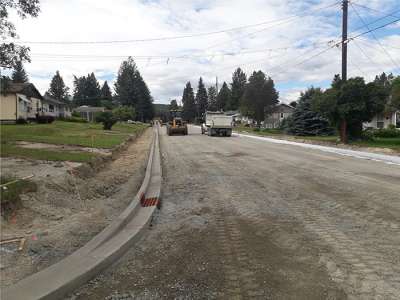 Manager of Infrastructure Planning & Delivery, Mike Matejka says there are a few factors that help get a jumpstart to the construction season.
"We at the City have been working hard over the past several years to plan ahead with our infrastructure prioritization, planning and design work. Coupled with a continued effort to have our Financial Plan adopted early in the year allows us to tender these projects earlier than many other communities," Matejka says. "Tendering projects early leads to the most competitive prices and also allows contractors to get to work early, and complete work early, such that they can bid on other work later in the season."
While the City does work hard to incentivize a timely project schedule, it has also put in many contractual requirements and oversight mechanisms to make sure quality work and quality public engagement remains a top priority.
"It's great to see the results of our new approach to our capital works programs. Mike and his team as well as other staff have worked diligently on this and we are seeing very positive outcomes from this," says Mayor Lee Pratt.
For the second half of the year the City has a watermain replacement project underway in the alley east of 15th Avenue between 2nd and 4th Street South. This will also provide a new upgraded water service to the City owned Mount Baker RV Park.
Furthermore, the annual paving program tender has closed with the preliminary lowest bidder being BA Blacktop. The City would like to see this project underway early in July which will see several roads resurfaced, new sidewalks installed, and several road safety upgrades completed.
Finally, Mackay Contracting is expected to begin work on the Kootenay Street Storm Sewer upgrade in early July, which will alleviate risks and likelihood of localized flooding issues that have occurred historically in the area.
Other Capital Program Progress Updates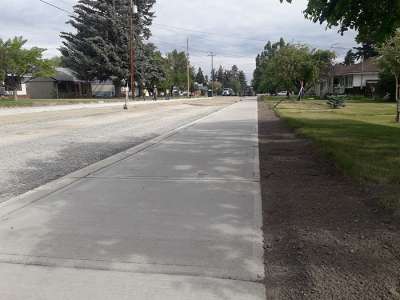 13th Avenue Road and Watermain Reconstruction
Curbing and sidewalk complete north half of project; second half underway. Paving scheduled for last week of June or first week of July.
8th Avenue Road and Watermain Reconstruction
Paving and sidewalk complete. Landscaping and walkways are in progress with full road access to be available first week of July.
Alley East of 15th Avenue Watermain Reconstruction
Temporary overhead water servicing complete. New watermain installation to begin last week of June.
Annual Paving Program
Project is tender closed June 19th with work expected to begin late June or early July.
Some of the paving projects will include: 2nd Street North in front of Western Financial Place, 23rd and 24th Avenue North between 2nd and 6th Street North and multiple sections of Victoria Avenue North.