**Provided courtesy of Kimberley-Cranbrook 55+ BC Games Organizing Committee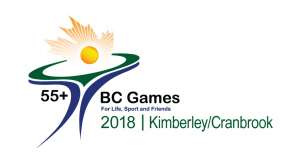 Cranbrook, BC (August 13, 2018) -- Kimberley/Cranbrook 2018 55+ BC Games are just around the corner. The event will host approximately 2200 athletes in 23 events in and around our cities.
An event of this size cannot take place without the hundreds of volunteers required for the games. A goal of 1000 volunteers will be needed for a variety of activities. The organization of the games sees the volunteer tasks broke down into many small pieces, so there is an opportunity for helping out, without having to make huge time commitments. To register quickly, click the Games logo to go right to the registration page.
With 23 sports, there is a need for volunteers to work with our Sport Chairs and officials to deliver quality events. If you sign up for specific sports, you will receive direction and training as needed. Many of our sports still need volunteers. Examples of the types of duty include items such as:
Swimming
requires up to 40 volunteers per day
timing swimmers requires 24 individuals
Track and Field
raking and helping measure at the long/triple jump pits
putting the high jump bar back up on the posts when its falls and help with the raising of the bar
collecting throwing items for all the throwing events
setting up and taking down hurdles
helping with organizing athletes in their lanes for the short running events
counting laps for the long distance running
giving out water/Gatorade at the aid station on the 10k run
preparing and giving out snacks at the end of the race
general take set up and take down of equipment during the 4 days
Pickleball
registrar who provides information, format, server wristband to participants, and other tasks
marshalling teams to vacant courts
scorekeepers
identifying open courts to keep draw moving effectively
general assistance, sweeping courts, assisting set up
While many sports still need a few more volunteers, track and field, pickleball, cycling, swimming and ice curling are low at this time.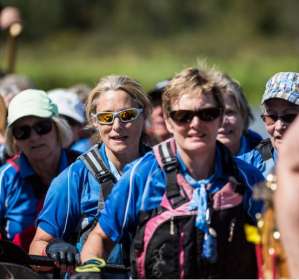 In addition to sport specific tasks, there are a number of other directorates still requiring volunteers. These directorates (and a sample of a current need) are transportation (drivers), promotions (photographers), Special Events (assisting at the numerous special activities for participants and volunteers), Protocol (hosts that greet and provide information to participants at all sport venues), Registration and Results (checking in games participants at the accreditation centre), Administration (assisting in our equipment warehouse), Security (traffic control), Medical (first aid services at games venues), Communications (switchboard games info line) and Friends of the Games (assisting in recognition activities for games sponsors). These are just an example in each directorate, but other tasks are still needed.
To volunteer, please visit www.55plusgames.ca and follow the volunteer link. You will be contacted by a Volunteer Management Chair afterwards, who will discuss your availability, training times etc.
While we will take volunteers right up to the games if they are needed, we are hoping to have as many volunteers signed up early so they can attend our volunteer accreditation event on either Tuesday, August 28 from 5-9 pm at the Heritage Inn, or Wednesday, August 29 from 5-9 at the Marysville arena. This will be your opportunity to meet you Directors, pickup you volunteer badge and tshirt, as well as your information handbooks. If you can't make these dates, or register afterwards, you will be able to pick up this material at our games office (address).
Let's show our visitors how great our two communities are, by delivering an amazing games!