Cranbrook, BC (May 14, 2019) – Activity around the City's capital roads program and capital projects is in full swing.
Mackay Contracting continues to push ahead on the road and watermain reconstruction project on 13th Avenue South between 4th Street South and 6th Street South. One block of water main and water services has been installed with commissioning of the upgraded services underway. Road construction will follow shortly on the 400 block. The second block of water main and service installation is now in progress on the 500 block.
BA Blacktop (below) continues work on the 8th Avenue South road and water main reconstruction project. A block of water main has been installed from 2nd Street South to 3rd Street South, with lot service installation underway.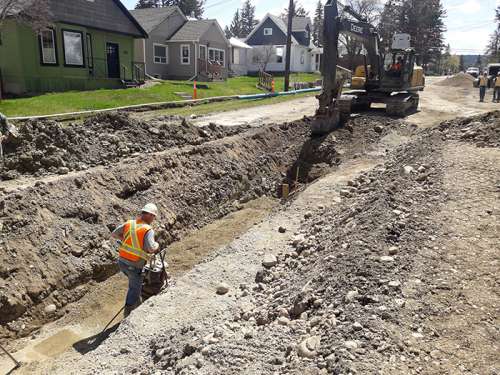 Another water main reconstruction project is set to come online shortly, following a tender closing that saw Tybo Contracting as the low bidder. Two blocks of water main reconstruction are set to begin in June, in the alley east of 15th Avenue South from 2nd Street South to 4th Street South.
As these projects continue to progress the City has several others lined up for later in the season. This includes the Annual Paving Program including several sidewalk improvements and upgrades, the Kootenay Street Storm Sewer Upgrade near 4th Street NW, and the Sanitary Sewer Lining Rehabilitation Project happening in the downtown area.
The City and its contractors would like to thank all affected residents and property owners for their understanding and cooperation as these major infrastructure investment projects continue in the City.