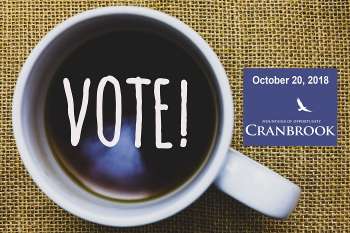 Cranbrook, BC (October 11, 2018) – 483 residents cast their ballots at the first of two advance polls on Wednesday, October 10 for the 2018 municipal election in Cranbrook. That compares to 713 voters in the first advance poll of the 2014 election.
The second and final advance poll is set for Wednesday, October 17 from 8:00am to 8:00pm at the Parkview Pavilion Senior Centre on 17th Avenue South. General voting day is Saturday, October 20 from 8:00am to 8:00pm at the Laurie Middle School gymnasium, located on 2nd Street South.
Special voting opportunities are available as well to admitted patients or facility residents only on Friday, October 19:
Dr. F.W. Green Memorial Home (10:00am – 11:45am)
East Kootenay Regional Hospital (1:00pm - 4:30pm)
Joseph Creek Village (9:00am – 2:00pm)
Joseph Creek Care Village (2:00pm – 5:30pm)
Mountain View Village (5:00pm - 5:45pm)
Scott Villa (9:15am – 9:45am)
Visit our Election page for more important information on the 2018 Municipal Election here.