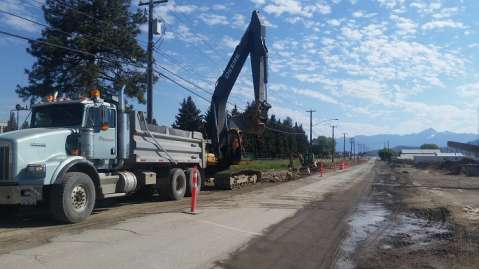 Photo: Crews work to install the new storm water system along Cobham Avenue, in front of Westlawn Cemetery on Wednesday May 23, 2018. City of Cranbrook.
Cranbrook, BC (May 23, 2018) -- The City of Cranbrook's 2018 Capital Works Program is progressing very well, with a significant amount of work being completed in the month of May. All three major projects are ahead of schedule thanks to the early tender and award timing along with some strong effort being put forward by the project contractors.
For the 9th Street South and 12th Avenue Projects, the water main and services have been installed and are in the process of being tested prior to hooking up the properties to the new system. Once this is complete, the road building phase will begin with gravel installation and preparation for curb, sidewalk and pavement.
On Cobham Avenue, some minor water and sewer extensions were completed and the installation of the new storm water system is well underway. This is expected to be completed in the next several weeks, with the project transitioning to the road building phase at that time as well.
For all projects, the City and its contractors greatly appreciate the patience and understanding of the public as the work continues. For the safety of the traveling public and the workers, please respect the traffic control personnel, all signage and detour routes, and avoid trespassing through nearby private properties or narrow side streets. Residents in the New Lake and Cross Road areas are asked to continue to take Highway 3 and Jim Smith Lake Road to avoid delays associated with the project site.
As some of these projects are lined up to be completed earlier in the summer, the City is also moving ahead with some storm water management, paving and sidewalk work anticipated to take place in the summer and early fall.