Cranbrook, BC (April 12, 2018) – Public Works is beginning the annual spring clean-up operations at Westlawn Cemetery in Cranbrook this week.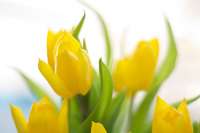 In order to help with the clean-up, staff are beginning to remove adornments left on memorials and are leaving them on a shelving unit behind the maintenance shed for pick up by the families. Keeping the memorials free of adornments – with the exception of flowers -- ensures that our staff are able to easily maintain the property, but to also ensure these important mementos to loved ones are not broken or lost.
The City reminds residents that only fresh cut flowers are allowed on memorials at Westlawn or alternatively artificial flowers in the Mausoleum. Fresh cut flowers, wreaths and other floral offerings may be placed in the flower container through the spring and summer months, with artificial flowers being used during the fall and winter.

For more about what can and should not be left on memorials at Westlawn and other important information, please have a look at our Cemetery bylaw @ https://cranbrook.civicweb.net/document/954.