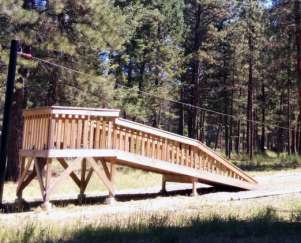 Cranbrook, BC (July 8, 2019) -- Work is currently underway on the replacement of the zip line at Idlewild Park. The zip line has always been a favourite feature at the park and the Cranbrook Rotary Club jumped on board to take on the project.

Initially a single-track replacement, the City and the Rotary Club were able to secure additional funding to expand the project to a double track system, allowing for more children to enjoy the experience.
The Rotary Club has raised $35,000 of the $65,000 project, with the remaining funds and donations coming from the City of Cranbrook, the Regional District of the East Kootenay, Western Financial Group, and Home Depot.
It is anticipated that the new zip line will be in place by late July 2019.