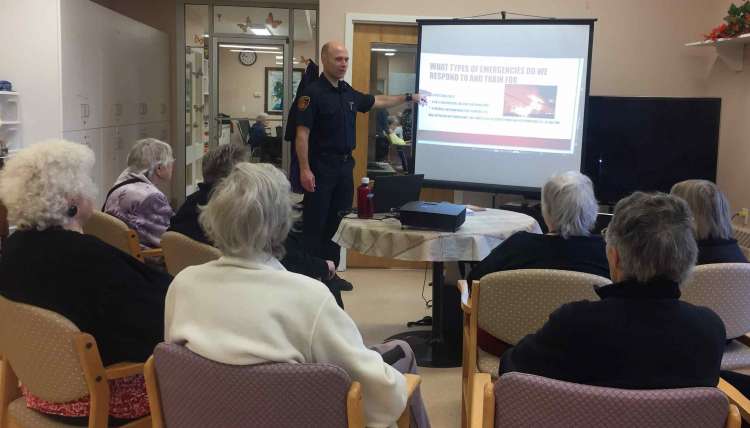 Photo Cutline: Firefighter Bill Munro, Fire Prevention Coordinator with Cranbrook Fire & Emergency Services talks with a group of local seniors recently from the Day Break program at the F.W. Green Home about fire safety and prevention. Photo: City of Cranbrook.
Cranbrook, BC (November 1, 2018) -- Seniors are the fastest growing segment of the population and are among the most vulnerable to fire injury and death. At age 65, older adults are twice as likely to be injured or killed by fire compared to the population at large. This increases to three times by age 75 and four times by age 85.
Presentations like this one help seniors understand the importance of fire safety and how they must take special precautions to care for themselves. By focusing on fire safety, we can make measurable improvement in the health and well-being of older adults.
Cranbrook Fire & Emergency Services offers presentations like these to a variety of age groups from seniors to school children.

Please call Bill Munro at 250-426-2325 or email [email protected] for more information or to organize a presentation.